Alex Mackay's potatoes with asparagus, poached egg & tomato dressing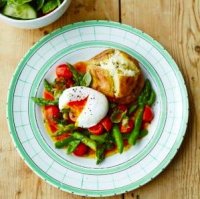 Alex says: 'This makes a great meal for kids, the asparagus spears are fantastic finger food for them to pop their eggs with, they'll love the potato of course and it's a good way to introduce a different way to eat a baked potato.'
What you need:
4 medium sized fluffy King Edward potatoes (about 180g each)
4 tbsp tomato juice
2 tsp and 2 tbsp white wine vinegar
3 tbsp extra virgin olive oil
125g baby plum tomatoes cut in half
6 tbsp sliced basil and 4 little sprigs to make the eggs look pretty
12 asparagus spears, woody bottoms trimmed
4 large very fresh eggs
Salt, sugar (any sort) & black pepper
What you do:
Pre-heat your oven to 220C/ Gas 7. Put a baking sheet onto the upper middle shelf. Boil your kettle.
Prick each of the King Edward potatoes three times with a fork. Put them onto a plate and cover them. Microwave the King Edwards on the highest setting for 10-15 minutes. The insides should be soft. Cut a cross in the top of each potato. Put them onto the baking sheet in your oven for 10 minutes to crisp up the skins.
While the potatoes cook, make your dressing. Get a medium sized bowl. Add the tomato juice, 2 tsp vinegar, 3 tbsp extra virgin olive oil and the halved baby plum tomatoes. Season to taste with salt, sugar and pepper. Add the sliced basil, set aside.
Fill a large saucepan (24cm) three quarters full with boiling water from your kettle, and make sure it is boiling furiously before you add the asparagus. Cut each spear in half widthways. Add the thicker bottoms to the water and boil for 2 minutes, add the asparagus top halves and boil for 2 minutes more. Lift out the asparagus and drain, then gently put them onto the tray with the potatoes. By this stage the potatoes will be ready, turn off the oven and keep both the asparagus and potatoes warm.
Add 2 tbsp vinegar to the water. Bring back to the boil. Crack the eggs one by one into a small bowl then tip each one into the water and swirl the whites around the yolks using a slotted spoon. Poach for 4 -5 minutes for soft centred eggs.
When the eggs are almost cooked, put the asparagus and potatoes onto your plates. Put an egg onto a potato half on each plate, spoon the dressing around then put a little basil sprig next to each egg.
Cook's tip:
The dressing can be made, up to the point of adding the basil, at least a couple of hours ahead.
This page can be found at: http://secretsauce.co.uk/vegetarian/asparagus-recipes/alex-mackays-potatoes-with-asparagus-poached-egg/
A short link can also be used: http://bit.ly/QIsyNE
Potato Council
British potatoes
are the ultimate taste sensation that have stood the test of time. They're great value for money, quick and easy to cook and provide a wealth of essential nutrients.
More from Potato Council

Alex says: 'This is simply yummy, as spicy as you fancy with the King Edwards catching a lovely lick of the chicken's roasting juices.'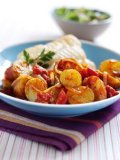 A delicious side dish to serve with any curry or Indian meal

Alex says: 'This is the good King Edward's twist on the Greek filo pastry pie, Spanakopita.'
Popular in asparagus recipes

Selles-Sur-Cher is a dry French goat's cheese packed with flavour which perfectly complements asparagus. This is a perfect starter for any occasion

This simple and speedy salad tastes sensational with garlic and rosemary marinated beetroot