Greek-style radish & mint dip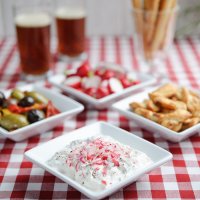 A refreshing and punchy dip ideal for serving with crudites and bread sticks or as a cooling addition to a spicy meal
What you need:
10 French breakfast radishes
150g Greek yoghurt
2 sprigs mint
What you do:
Coarsely grate the radishes and chop the mint finely
Combine all of the ingredients in a bowl along with a pinch of salt.
Top with an extra sprinkle of mint
This page can be found at: http://secretsauce.co.uk/vegetarian/dip-recipes/greek-style-radish-and-mint-dip/
A short link can also be used: http://bit.ly/gRvNzC
Love Radishes

Often thought of as just 'a bite on the side', the humble radish, with its crisp, crunchy texture and distinctive peppery bite, is a deliciously versatile snack or ingredient, perfect for adding a subtle kick to salads, sandwiches, stir fries and more.
More from Love Radishes

A delicious, healthy and quick snack or light lunch bursting with subtle flavours and brimming with colour!

A delicious Bloody Mary recipe complete with retro celery sticks and the requisite balance of fresh and bold flavours.

This beautiful and nutritious dish is inspired by the flavours of Asian cooking.
Popular in dip recipes

Never thought about making satay sauce yourself? There's no going back when you've tried this!

If you're throwing a party, impress your guests with some delicious home made dips and crunch bellaverde crudites

Perfect dip to share at your picnic with family and friends