Bellaverde with three dips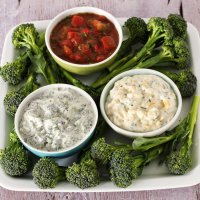 If you're throwing a party, impress your guests with some delicious home made dips and crunch bellaverde crudites
Preparation: 10 mins
Serves: 6
What you need:
400g Bellaverde® broccoli
For the tzatziki:
225g/8oz cucumber, washed
1 clove garlic, crushed
45ml/ 3 tbsp chopped fresh mint
90ml/6tbsp thick Greek yogurt
salt and freshly ground black pepper


For the salsa:

1 (400g) can chopped tomatoes
1 red chilli, deseeded and finely chopped
45ml/3tbsp chopped fresh coriander
juice 1/2 lime



For the sour cream and chives:

1 (200g) tub half fat creme fraiche
50g/2oz Red Leicester or other red cheese, grated
30ml/2tbsp chopped fresh chives
a pinch of cayenne pepper
What you do:
Wash the bellaverde, trim the base of each spear and arrange on a platter.
For the tzatziki: Cut the cucumber in half and scoop out the seeds with a teaspoon and discard. Coarsely grate the cucumber and place in a bowl, add the garlic, mint, yogurt and salt and pepper to taste. Spoon into a serving bowl.
For the salsa: mix all the ingredients together and season. Spoon into a serving bowl.
For the sour cream and chive dip: mix all the ingredients together and season. Spoon into a serving bowl. Arrange the three dip bowls in the centre of the bellaverde and serve.
This page can be found at: http://secretsauce.co.uk/vegetarian/dip-recipes/bellaverde-with-three-dips/
A short link can also be used: http://bit.ly/gbUVev
Bellaverde Broccoli

If you're looking for broccoli with a unique, sweet taste which is not only a versatile ingredient but is equally delicious when eaten on its own, then look no further than Bellaverde.
More from Bellaverde Broccoli

Packed full of goodness, this pasta dish will have your family well on their way to their five a day!

A tasty oven bake which is great as a midweek family meal

Steak and Hollandaise sauce is always a crowd-pleaser, just add some Bellaverde broccoli and the meal's complete!
Popular in dip recipes

Never thought about making satay sauce yourself? There's no going back when you've tried this!

A refreshing and punchy dip ideal for serving with crudites and bread sticks or as a cooling addition to a spicy meal

Perfect dip to share at your picnic with family and friends