Satay dip with Celericious wedges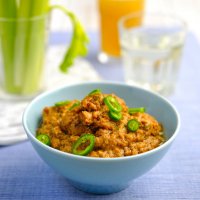 Never thought about making satay sauce yourself? There's no going back when you've tried this!
What you need:
50g/2oz desiccated coconut
240ml/8floz hot water
5 tbsp crunchy peanut butter
1 tbsp light soy sauce
1 small clove garlic, crushed
1-2 fresh green chillies, seeded and finely chopped
1 tsp brown sugar
1 tbsp lime juice
Serve with plenty of Celericious!
What you do:
Put the coconut into a bowl, pour over hot water and leave to soak for 15 minutes.
Strain the mixture into a saucepan, pressing well to extract all the liquid. Discard the coconut.
Add the remaining ingredients and stir over a low heat until well blended.
This page can be found at: http://secretsauce.co.uk/vegetarian/dip-recipes/satay-dip-with-celericious-wedges/
A short link can also be used: http://bit.ly/PbsKzV
Celericious

Unique tasting Celericious is the result of over 8 years of innovation and development. Left in the ground for longer than standard celery before it is harvested, Celericious is a sweeter celery with more crunch.
More from Celericious

Perfect for parties - guests probably won't have seen these before and they're in for a delicious surprise!

Perfect for a party, this dip is delicious and healthy too!

Now this is a salad with real bite. There's the flavoursome bite of blue cheese and radish and the crunchy bite of Celericous blended with sweet apple.
Popular in dip recipes

If you're throwing a party, impress your guests with some delicious home made dips and crunch bellaverde crudites

A refreshing and punchy dip ideal for serving with crudites and bread sticks or as a cooling addition to a spicy meal

Perfect dip to share at your picnic with family and friends