Lemon roasted chantenay with feta & mint couscous salad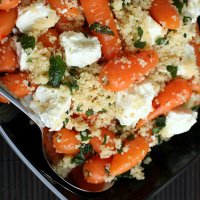 Tangy feta and lemon with sweet chantenay carrots, fresh mint, spicy chilli and couscous - this salad's anything but boring
Serves: 4
What you need:
400g Chantenay carrots cut in half lengthways
150g couscous
130ml boiling water
4 tbsp virgin olive oil
½ tsp crushed chilli seeds
Juice of one large lemon
3 garlic cloves peeled and cut in half
1 bunch mint roughly chopped
200g Greek feta cheese roughly crumbled
Sea salt and black pepper
What you do:
Preheat oven to 180C/350˚F/Gas Mark4.
Place the carrots and garlic in a roasting tray. Drizzle with 2 tablespoons of the olive oil and the lemon juice. Season with sea salt and black pepper and sprinkle on the chilli seeds. Roast in the oven stirring twice during the cooking time for 20-25 minutes or until just tender but still with a bite. Then cool.
Meanwhile mix the couscous with the boiling water, stir well, add the 2 remaining tablespoons of olive oil, season and cool.
Mix together the carrots, couscous and mint, then fold in the feta cheese. Adjust seasoning if necessary.

This page can be found at: http://secretsauce.co.uk/vegetarian/couscous-recipes/lemon-roasted-chantenay-feta-mint-couscous-salad/
A short link can also be used: http://bit.ly/dH71Qk
Chantenay carrots

Chantenay is a small sweet variety of carrot with crisp, orange flesh and a tender texture. Five Chantenay carrots count as one portion towards the recommended five portions of fruit and veg we should eat each day.
More from Chantenay carrots

A fantastic winter warmer with sweet Chantenay carrots, tender chunks of steak in a rich gravy with filling dumplings.

Leg or shoulder of lamb with sweet carrots and spring vegetables is a great Sunday dish, just make sure you've got a big helping of redcurrant jelly handy

If you love olives, you'll love this recipe and the good news is this rice salad's really good for you too!
Popular in couscous recipes

Use dips as an alternative to mayonnaise, soured cream or oily dressings to liven up a salad!

If you're struggling to get five portions of vegetables into your kids a day, this recipe has two in it and is ready in just 15 minutes!

A crunchy fresh couscous salad made from Pink Lady apples and infused with smoky spicy aromas from Morocco. The perfect lunchbox treat!