Roast shallot & broad bean couscous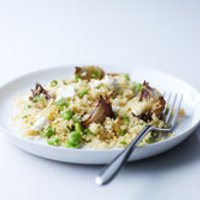 Healthy and tasty, this delicious shallot and couscous meal is ready in just 35 minutes
Serves: 4
Preparation time: 20 minutes
Cooking time: 15 minutes
What you need:
8 shallots, peeled and halved
1 tbsp olive oil
1/2 tsp smoked paprika
200g cous-cous
300ml vegetable stock
200g broad beans
grated rind and juice 1 small lemon
150g feta cheese, crumbled (optional)
handful chopped fresh mint
salt and freshly ground black pepper
What to do:
Preheat the oven to 190C/Gas 5. Put the shallots in a small roasting tin and drizzle with the oil. Season with salt and pepper and roast for 10-15 minutes, until tender and golden.
Put the cous-cous in a bowl and stir in the paprika. Pour over the stock and cover with cling film. Set aside for 10-15 minutes. Cook the broad beans in boiling salted water for 2-3 minutes, until tender. Drain and refresh under cold running water. Slip the beans out of their grey skins.
Fluff up the cous-cous and stir in the beans, lemon rind and juice, feta (if using), mint and shallots.
This page can be found at: http://secretsauce.co.uk/vegetarian/couscous-recipes/roast-shallot-broad-bean-couscous/
A short link can also be used: http://bit.ly/dHPqnC
UK shallots
UK shallots are amongst the finest in the world with a uniquely mild, sweet flavour. Used for centuries as an important ingredient in both western and eastern cooking to add flavour, sweetness and piquancy, shallots turn savoury recipes into something really special.
More from UK shallots

Tender sea bass with a sauce of shallots, cream and herbs - perfect for a dinner party or a romantic dinner for two

Tender beef with the spice of chilli and the sweetness from sweet potato creates an exciting stew-type dish bursting with flavour.

Venison may be slightly unusual for a burger, but it tastes as good, if not better than traditional beef. So try something different tonight with this easy recipe.
Popular in couscous recipes

Use dips as an alternative to mayonnaise, soured cream or oily dressings to liven up a salad!

Tangy feta and lemon with sweet chantenay carrots, fresh mint, spicy chilli and couscous - this salad's anything but boring

A crunchy fresh couscous salad made from Pink Lady apples and infused with smoky spicy aromas from Morocco. The perfect lunchbox treat!