Warm salad of roasted shallots, beetroot & goats cheese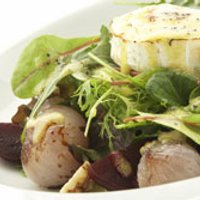 Salad may not be the first thing to spring to mind when the weather's a bit chilly, but this warm salad is both tasty and comforting.
What you need:
12 shallots, peeled and left whole

2 tbsp olive oil
8 beetroot, cooked
4 small goats cheese crottins
2 large handfuls mixed leaves - rocket, lambs lettuce, baby spinach, chard, watercress
For the dressing you'll need:
3 tbsp extra virgin olive oil
1 tbsp white wine vinegar
1 tsp wholegrain mustard
1/2 tsp caster sugar
What to do:
Preheat the oven to 200C / 400 F / Gas Mark 6.
Place the shallots in a roasting tin, drizzle with the olive oil and season well with sea salt and black pepper. Roast in the preheated oven for 20 minutes until softened and starting to brown.
Cut the beetroot into wedges and add to the roasting tin. Return to the oven for a further 10 - 15 minutes, until the vegetables are golden and caramelised.
Halve the goats cheeses and place cut side up under the grill. Grill for 2 minutes or until browned and bubbling.
Make the dressing by whisking all the ingredients together. Arrange the salad leaves on 4 plates and scatter over the warm roasted vegetables. Drizzle with the dressing and top with the grilled goats cheese.
This page can be found at: http://secretsauce.co.uk/vegetarian/cheese-recipes/shallots-beetroot-goats-cheese/
A short link can also be used: http://bit.ly/guxfvB
UK shallots
UK shallots are amongst the finest in the world with a uniquely mild, sweet flavour. Used for centuries as an important ingredient in both western and eastern cooking to add flavour, sweetness and piquancy, shallots turn savoury recipes into something really special.
More from UK shallots

Tender sea bass with a sauce of shallots, cream and herbs - perfect for a dinner party or a romantic dinner for two

Tender beef with the spice of chilli and the sweetness from sweet potato creates an exciting stew-type dish bursting with flavour.

Venison may be slightly unusual for a burger, but it tastes as good, if not better than traditional beef. So try something different tonight with this easy recipe.
Popular in cheese recipes

It may sound like an unusual pairing, but goats' cheese is delicious with fig relish and you could even make smaller versions of these for canapes

Gorgonzola has a distinct and unique flavour and goes perfectly with the mushrooms on this delicious bruschetta dish

These cranberry and brie tartlets are perfect to hand out at a party, just make sure you've got back-ups in the oven as they'll disappear before you know it!