Roasted beetroot & Gouda salad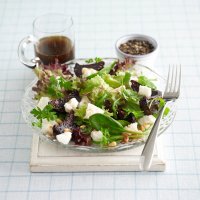 The sweet taste of the roasted beetroot compliments the creamy texture of Original Dutch Gouda cheese perfectly, making this a popular salad combination. Serve with crusty bread for a quick and easy starter or light lunch.
Preparation: 10 mins
Cooking: 40 mins
Serves: 4
What you need:
8 medium beetroot, peeled and cut into quarters
45 ml (3 tbsp) olive oil
15 ml (1 tbsp) balsamic vinegar
50 g (2 oz) pine nuts, roasted in a frying pan (without using oil)
150 g (5 oz) mixed salad and herb leaves, e.g. baby spinach, rocket and chives
10 ml (2 tsp) runny honey
200 g (7 1/2 oz) Original Dutch Gouda, cut into small cubes
Bread to serve
What you do:
Preheat the oven to 190°C, 350°F gas mark 5.
Put the beetroot on a baking tray and drizzle over 15 ml (1 tbsp) of the oil, season well with salt and freshly ground black pepper. Roast for 35-40 minutes, turning halfway, until tender. Allow to cool slightly.
Place the beetroot, pine nuts and salad leaves in a bowl. Whisk the remaining olive oil, balsamic vinegar and honey together and season to taste with salt and black pepper. Pour this dressing over the salad and gently toss together.
Divide the salad between 4 plates and arrange the Frico Mild Dutch Gouda over the top. Serve immediately with crusty bread, such as walnut bread.
This page can be found at: http://secretsauce.co.uk/vegetarian/cheese-recipes/roasted-beetroot-and-gouda-salad/
A short link can also be used: http://bit.ly/emo0e6
Gouda

The delicious Dutch cheese which originates in the town of Gouda, close to Rotterdam, has a rich history which is matched by its rich creamy texture and sweet, nutty flavour. Gouda is packaged in a distinctive wheel shape and is covered in a yellow wax which makes it the ideal addition to brighten up any cheese board.
More from Gouda

Dutch Gouda adds a wonderfully rich flavour to this sweet and creamy dish. Perfect served with a slice of crusty bread.
Popular in cheese recipes

It may sound like an unusual pairing, but goats' cheese is delicious with fig relish and you could even make smaller versions of these for canapes

Gorgonzola has a distinct and unique flavour and goes perfectly with the mushrooms on this delicious bruschetta dish

These cranberry and brie tartlets are perfect to hand out at a party, just make sure you've got back-ups in the oven as they'll disappear before you know it!