Mushroom & Gorgonzola bruschetta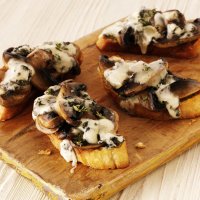 Gorgonzola has a distinct and unique flavour and goes perfectly with the mushrooms on this delicious bruschetta dish
Prep: 5 mins
Cooking: 15-20 mins
Serves: 4
Nutritional information:
Energy(kcal) 395
Protein 12.2
Fat (g) 19.7
Of which saturates (g) 5.7
Carbohydrate (g) 45.2
Of which sugars (g) 2.4
Fibre (g) 2.6
Salt (g) 1.8
One of your 5-A-DAY
What you need:
90ml/6tbsp extra virgin olive oil
8 (1.5cm) thick slices ciabatta bread
250g pack white flat mushrooms, sliced
15ml/1tbsp fresh thyme leaves or 5ml/1tsp dried
1 clove garlic, peeled
75g/3oz gorgonzola piccante, crumbled
What you do:
Preheat the oven to 20C/Fan, 180C/Gas or Mark 6. Brush 60ml/4 tbsp of the oil on both sides of the bread slices and place in a single layer on a baking sheet. Bake for 8 mins, turning once until crisp and golden.
Meanwhile, heat the remaining oil in a frying pan, add the mushrooms and sauté over a high heat for 6-8 mins, stirring occasionally, until golden. Remove from the heat.
Rub the garlic clove on one side of the bruschetta slices. Then top with the warm mushrooms and gorgonzola. Pop in the oven for 1-2 mins to warm through before serving.
This page can be found at: http://secretsauce.co.uk/vegetarian/cheese-recipes/mushroom-and-gorgonzola-bruschetta/
A short link can also be used: http://bit.ly/eDggcX
Mushroom Bureau

Not only are mushrooms inexpensive and versatile, they are also satisfying, delicious and nutritious. Their succulent and unique meaty taste adds depth and gives a balanced flavour to dishes, making them a scrumptious meat substitute.
More from Mushroom Bureau

Actress Tamzin Outhwaite is a great fan of mushrooms - she loves this recipe for a quick, delicious and healthy stroganoff - perfect for a week-night

Tender prawns are great in stir-fries, the cashew nuts give this dish an added crunch and the shiitake mushrooms are tender and full of flavour

This delicious spaghetti dish is ready in under 15 minutes and you could serve it cold for a packed lunch the next day!
Popular in cheese recipes

It may sound like an unusual pairing, but goats' cheese is delicious with fig relish and you could even make smaller versions of these for canapes

These cranberry and brie tartlets are perfect to hand out at a party, just make sure you've got back-ups in the oven as they'll disappear before you know it!

Rarebit is such a delicious snack, but when you've tried it with beer mustard, you'll want to make sure you never run out