Cranberry & brie tartlets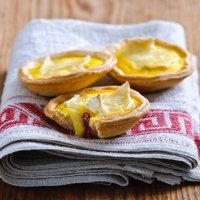 These cranberry and brie tartlets are perfect to hand out at a party, just make sure you've got back-ups in the oven as they'll disappear before you know it!
Makes: 24
What you need:
225g shortcrust pastry
Tracklements Cranberry & Port Sauce
200g Brie cut into ½ inch cubes (with rind left on)
1floz milk
1 large egg
Salt and pepper to taste
What you do:
Roll the pastry out until it is 3mm thick and stamp out circles to fit in a tartlet tin and then chill for ½ hr. Bake the pastry cases blind for 10mins at 180oC/350oF/gas mark 4. Remove from oven and put ½ teaspoon of Cranberry & Port Sauce in each pastry case and cover this with one or two cubes of brie.
Whisk together the milk, egg, salt and pepper and pour this mixture over the brie and Cranberry Sauce to fill up each tartlet.
Cook for approx 10-15 mins at 180oC/350oF/gas mark 4 until raised and golden brown.
This page can be found at: http://secretsauce.co.uk/vegetarian/cheese-recipes/cranberry-and-brie-tartlets/
A short link can also be used: http://bit.ly/enPEGi
Tracklements

Tracklements is driven by the twin aims of producing the best chutneys, mustards and preserves on the market, tasting as good as the best home-made, and of making it traditionally, in small batches, with all natural ingredients.
More from Tracklements

Leek and onion is a fantastic accompaniment to sea bass, just add it to the pan with the fish - it couldn't be easier!

This is such a lovely accompaniment to all sorts of meat dishes, but particularly your Christmas turkey!

It may sound like an unusual pairing, but goats' cheese is delicious with fig relish and you could even make smaller versions of these for canapes
Popular in cheese recipes

It may sound like an unusual pairing, but goats' cheese is delicious with fig relish and you could even make smaller versions of these for canapes

Gorgonzola has a distinct and unique flavour and goes perfectly with the mushrooms on this delicious bruschetta dish

Rarebit is such a delicious snack, but when you've tried it with beer mustard, you'll want to make sure you never run out