Cheese & oat slices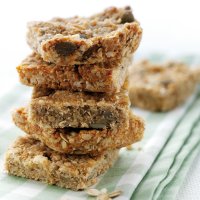 These cheese and oat slices are great for lunchboxes, but also brilliant to keep in the fridge ready for a snack attack!
Preparation time: 10 minutes
Cooking time: 20 minutes
Makes: 16 squares
What you need:
100g wholemeal flour
150g porridge oats
50g mixed seeds
2 medium eggs, beaten
2 tsp Dijon mustard
50g butter, melted
100g Cheddar cheese, grated
What you do:
Preheat the oven to 200°C, gas mark 6.
Mix all the ingredients in a bowl and press into a 23cm square tin. Smooth over the surface.

Bake for 20 minutes until golden. Allow to cool slightly before cutting into 16 squares.
Handy hints and tips:
Ideal for picnics and pack lunches or served topped with cheese and pickle for a quick wholesome snack.
This page can be found at: http://secretsauce.co.uk/vegetarian/cheese-recipes/cheese-and-oat-slices/
A short link can also be used: http://bit.ly/hbhJi9
All about oats

All About Oats is an independent campaign which aims to raise awareness of the health benefits and versatility of oats.
More from All about oats

Try using this stuffing mix to fill the cavity of whole chickens before roasting - it's perfect for Christmas turkey too

This delicious treat includes two of your five-a-day plus one serving of wholegrain per person.

Oats aren't just for breakfast and make great toppings for meat or oily fish
Popular in cheese recipes

It may sound like an unusual pairing, but goats' cheese is delicious with fig relish and you could even make smaller versions of these for canapes

Gorgonzola has a distinct and unique flavour and goes perfectly with the mushrooms on this delicious bruschetta dish

These cranberry and brie tartlets are perfect to hand out at a party, just make sure you've got back-ups in the oven as they'll disappear before you know it!