Butternut squash gratin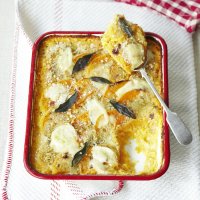 A mouth-watering vegetarian dish which can alternatively be served as a side option
Preparation: 90 mins
Cooking: 70 mins
Serves: 4
What you need:
1 medium butternut squash
70g Coeur de Lion Pie d'Angloys cheese - cubed
12 leaves fresh sage
70g breadcrumbs
3 sprigs thyme
100ml milk
1 tbsp crème fraiche
1 clove garlic - crushed
Olive oil
Salt and pepper
What you do:
Oven temperatures in 200ºC/400ºF/Gas Mark6
Preheat oven.
Peel the butternut and chop the nose off (the longer/slim part), slice into 1cm slices and set aside. Then take the ball of the butternut, scoop out the seeds and discard. Chop into small cubes.
Place the cubes along with the garlic and thyme in a pan, cover with boiling water and cook for 15 mins until soft. Drain.
Place the cooked cubes in a food processor and blend along with the crème fraiche, half the Pie d'Angloys and salt and pepper.
Take a medium sized baking dish and start making the gratin. Start with a layer of the puree and then a layer of the sliced butternut, repeat until all the mixture is used.
Pour over the milk and cover the dish with foil, bake in the oven for 45 mins.
Meanwhile chop half the sage and add to the bread crumbs.
After 45 mins of cooking remove the foil, top with the bread crumbs and scatter the remaining cheese and sage leaves. Drizzle with olive oil and then bake for a further 20 mins until golden on top.
This page can be found at: http://secretsauce.co.uk/vegetarian/butternut-squash-recipes/butternut-squash-gratin/
A short link can also be used: http://bit.ly/fMKSJT
Coeur de Lion

Delicious range of authentic French cheeses. Cœur de Lion was born from the creation of a camembert so creamy and tasty that its unique recipe was patented. This camembert was so popular with consumers that Cœur de Lion started producing other soft cheeses, including Le Brie, Chaumes, La Buche, Chavroux, Crème de Brie and Pie d'Angloys. Cœur de Lion is part of a family run French cheese company founded by Jean Noel Bongrain in 1956. Now run by the second generation, the company is passionate about only making authentic and delicious French cheese.
More from Coeur de Lion

Bored of traditional cheese on toast? Step it up a gear with delicious brie, packed full of flavour

Mouth-watering home made burgers with an even more mouth-watering topping

A great dish which is simple to make, guaranteed to impress your other half
Popular in butternut squash recipes

Turn up the heat in your kitchen with this low calorie, spicy salad. Great on its own or as an impressive side dish.