Gino D'Acampo's flamenco eggs with Bellaverde broccoli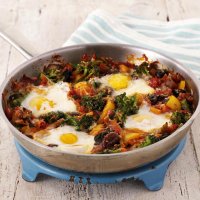 Every family needs a repertoire of recipes they can get on the table in under half-an-hour and this vegetarian one is as delicious as it is quick!
Preparation: 10 mins
Cooking: 15 mins
Serves: 4
What you need:
200g bellaverde® broccoli
45ml/3tbsp olive oil
1 medium onion, finely sliced
1 medium aubergine, cut into small cubes (about 1cm)
1 yellow pepper, deseeded and roughly chopped
1 (400g) can chopped tomatoes
5 fresh basil leaves, chopped
50g/2oz pitted Kalamata olives
4 medium eggs
25g/1oz freshly grated Parmesan cheese
salt and freshly ground black pepper
What you do:
Heat the oil in a 25cm diameter frying pan, add the onion, aubergines and pepper and sauté for 6-8 mins until soft and browned, stirring occasionally. Season with salt and pepper.
Meanwhile, wash the bellaverde® and prepare by trimming the base of the spear and chopping the remaining into 3cm pieces.
Pour the tomatoes in the frying pan with the bellaverde, basil and olives. Cover the pan with a baking tray or lid and cook, over a medium heat for 4-5 mins or until all the vegetables are tender. Meanwhile, preheat the grill.
Use a spoon to make four hollows in the tomato mixture and very gently break one egg into each. Recover the pan and cook over a medium heat for 2 mins. Remove the lid, sprinkle over the Parmesan and cook under the grill for 2-3 mins or until the eggs are cooked as you like them. Serve immediately with warm crusty bread.
This page can be found at: http://secretsauce.co.uk/vegetarian/broccoli-recipes/gino-dacampos-flamenco-eggs-with-broccoli/
A short link can also be used: http://bit.ly/gSpXK3
Bellaverde Broccoli

If you're looking for broccoli with a unique, sweet taste which is not only a versatile ingredient but is equally delicious when eaten on its own, then look no further than Bellaverde.
More from Bellaverde Broccoli

Packed full of goodness, this pasta dish will have your family well on their way to their five a day!

A tasty oven bake which is great as a midweek family meal

Steak and Hollandaise sauce is always a crowd-pleaser, just add some Bellaverde broccoli and the meal's complete!
Popular in broccoli recipes

Halloumi's salty flavour is the perfect match for sweet cherry tomatoes and smooth Tenderstem broccoli

Nisha says: 'Tenderstem, being a robust, spring vegetable, holds its own flavours when spiced. It works well with the toasted citrus notes from the mustard seeds and lemon in this dish.'
A great vegetarian dish which also makes a tasty side dish for chops and chicken fillets, for example.