Bellaverde tortilla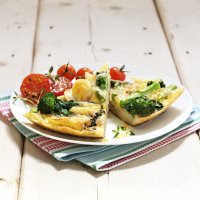 Perfect for a quick and delicious lunch, these tortillas are also brilliant for using up leftovers
Preparation: 10 mins
Cooking: 20 mins
Serves: 4
What you need:
200g Bellaverde® broccoli
225g/8oz new potatoes, sliced
30ml/2tbsp olive oil
1 onion, sliced
6 eggs
50g/2oz mature Cheddar cheese, grated
Salt and freshly ground black pepper
What you do:
Wash the bellaverde® and prepare the by trimming a little off the end of each spear. Cook the potatoes in boiling water for 5 mins. Drain the potatoes in a sieve, reserving the water and returning it to the pan. Add the broccoli to the pan and cook for 3 mins or until just tender. Drain in a colander and rinse in cold water until cold. Drain.
Heat the oil in a medium non-stick frying pan. Add the onion and potatoes and sauté for 5 mins. Beat the eggs with seasoning, then add to the pan.
Arrange the bellaverde® spears on top of the tortilla, pushing them into egg, cook for 5mins or until the base has set.
Scatter over the cheese and pop under a hot grill. Cook for 2-3 mins or until the egg has set. Cut into wedges and serve warm or cold with salad.
This page can be found at: http://secretsauce.co.uk/vegetarian/broccoli-recipes/bellaverde-tortilla/
A short link can also be used: http://bit.ly/fbs3us
Bellaverde Broccoli

If you're looking for broccoli with a unique, sweet taste which is not only a versatile ingredient but is equally delicious when eaten on its own, then look no further than Bellaverde.
More from Bellaverde Broccoli

Packed full of goodness, this pasta dish will have your family well on their way to their five a day!

A tasty oven bake which is great as a midweek family meal

Steak and Hollandaise sauce is always a crowd-pleaser, just add some Bellaverde broccoli and the meal's complete!
Popular in broccoli recipes

Halloumi's salty flavour is the perfect match for sweet cherry tomatoes and smooth Tenderstem broccoli

Nisha says: 'Tenderstem, being a robust, spring vegetable, holds its own flavours when spiced. It works well with the toasted citrus notes from the mustard seeds and lemon in this dish.'
A great vegetarian dish which also makes a tasty side dish for chops and chicken fillets, for example.