Paul Merrett's warm eggy bread with fresh berries
Devised by celebrity chef Paul Merrett, this eggy bread with fresh berries will make a lovely change from your usual breakfast
Prep: 5 mins
Cook: 3 - 4 mins
Makes: 2
What you need:
2 large Lion Quality eggs
100ml/4floz milk
3 (1cm) thick slices brioche bread
knob of butter
50g/2oz mixed fresh berries
golden caster sugar to dust
What you do:
Heat a large non-stick frying pan. Beat the eggs and milk together in a shallow bowl. Dip the slices of bread in the egg mixture, leave to soak for about 10 seconds on each side.
Add the butter to the hot pan then add the egg dipped bread and cook over a medium heat for 3 - 4 mins, turning once until the bread is golden on both sides. Remove with a spatula.
Diagonally slice the bread. Place 3 slices on each plate, scatter over the berries and sugar. Serve straight away.
This page can be found at: http://secretsauce.co.uk/vegetarian/breakfast-recipes/paul-merretts-warm-eggy-bread-with-fresh-berries/
A short link can also be used: http://bit.ly/fbg0pp
British Lion eggs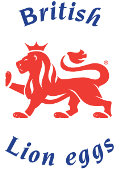 Look for the Lion on eggs to guarantee the highest standards of food safety. All Lion Quality eggs come from British hens vaccinated against salmonella and are date-stamped for freshness.
More from British Lion eggs

Celebrity chef Marcus Wareing's fantastic recipe for baked egg custard tart serves 8, but be prepared for it to only serve 4 because everyone will want a double helping!

Daniel Costello's Spanish baked eggs recipe was chosen by celebrity chef Paul Merrett as a winning recipe in British Lion eggs' Eggs Factor competition

What could be more fun on Pancake Day than setting fire to your dessert?
Popular in breakfast recipes

This is a really healthy, good for you breakfast that tastes delicious too with fruit mixed berries and sweet strawberry yoghurt

If you're sporty or need a good breakfast before going to the gym or doing other exercise, this staffordshire oatcakes with eggs dish will keep you full of energy

Quick, simple and tasty too - no excuse not to make time for breakfast now!