Tasty toast toppers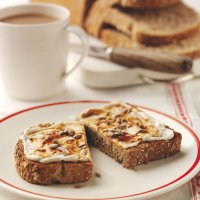 Quick, simple and tasty too - no excuse not to make time for breakfast now!
Preparation: 2-3 mins
Serves: 1
What you need:
1 slice wholemeal bread
1 tbsp light soft cheese
1/2 tsp yeast extract (e.g. Marmite)
Sprinkle mixed seeds
What you do:
Toast the bread and spread with the soft cheese.
Spread the yeast extract onto the cheese to give a marbled effect and sprinkle over the seeds.
This page can be found at: http://secretsauce.co.uk/vegetarian/breakfast-recipes/tasty-toast-toppers/
A short link can also be used: http://bit.ly/txi6Ax
Farmhouse Breakfast Week 2012

Time to Shake Up Your Wake Up? Then look no further. To celebrate Farmhouse Breakfast Week (22-28 January 2012) we've put together some really tasty yet speedy breakfast ideas for you and your whole family to enjoy. For more quick and easy recipes visit: www.shakeupyourwakeup.com/breakfast
More from Farmhouse Breakfast Week 2012

Provides all the energy active mums need

A tasty brunch recipe the whole family can enjoy

The rolled oats help provide energy to keep you going
Popular in breakfast recipes

This is a really healthy, good for you breakfast that tastes delicious too with fruit mixed berries and sweet strawberry yoghurt

If you're sporty or need a good breakfast before going to the gym or doing other exercise, this staffordshire oatcakes with eggs dish will keep you full of energy

Get your brain going and ready for the day with this delicious marmalade porridge breakfast