Staffordshire oatcakes with eggs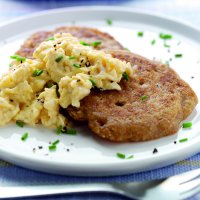 If you're sporty or need a good breakfast before going to the gym or doing other exercise, this staffordshire oatcakes with eggs dish will keep you full of energy
Preparation time: 35 minutes
Cooking time: 10 minutes
Serves: 2
What you need:
50g wholemeal flour
50g fine oatmeal
½ tsp dried yeast
15g melted butter
Rapeseed oil for shallow frying
To serve
2 medium eggs
2 tbsp milk
1 tbsp chopped chives
What you do:
Mix together the flour, oatmeal and yeast, season well. Whisk in the butter and 125ml tepid water. Cover and set aside in a warm place for 30 minutes.
Heat the oil in a frying pan and add 4 large spoonfuls of the batter into the pan to make 4 pancakes. Fry for 2 minutes on each side until golden. Meanwhile, place the eggs and milk in a small saucepan and cook, stirring until scrambled.
Top the oatcakes with scrambled eggs and sprinkle over the chives.
Handy hint and tip:
- Try making smaller pancakes instead, great for a quick snack.
- Serve with grilled local bacon and regional sausages.
This page can be found at: http://secretsauce.co.uk/vegetarian/breakfast-recipes/staffordshire-oatcakes-with-eggs/
A short link can also be used: http://bit.ly/e5EAea
Farmhouse Breakfast Week

If your 'get up and go' leaves you just when you need it first thing in the morning - think breakfast. That's the message from the HGCA, organisers of Farmhouse Breakfast Week (25-31 January 2009). To celebrate the nation's most essential meal of the day, a selection of new breakfast recipes has been created for Farmhouse Breakfast Week 2009, available in a new recipe booklet and online.
More from Farmhouse Breakfast Week

Get your brain going and ready for the day with this delicious marmalade porridge breakfast

Who can resist the smell of a freshly-baked loaf? And this wholemeal cottage loaf is good for your figure too!

Improve your mood, boost your concentration levels and have a delicious breakfast all at once with this poached egg and ham recipe
Popular in breakfast recipes

This is a really healthy, good for you breakfast that tastes delicious too with fruit mixed berries and sweet strawberry yoghurt

Quick, simple and tasty too - no excuse not to make time for breakfast now!

Get your brain going and ready for the day with this delicious marmalade porridge breakfast