Honey yogurt bread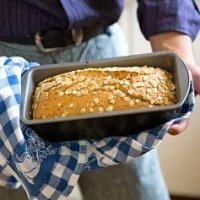 A wonderfully moist and great-tasting bread for all the family.
What you need:
30ml lemon juice
200ml milk
A handful of oat flakes
150g seed & grain white flour
150g wholemeal plain flour
25g cold butter, cut into small cubes
1/2 tsp salt
1 tsp sugar
1 tsp bicarbonate of soda
200g Tims Dairy Greek Style Yogurt with Honey
What you do:
Pre-heat the oven to 210°C (preferably without the fan). Add the lemon juice to the milk. As you are working on the recipe, the milk will curdle.
Grease a traditional 18cm (7 1/2) square loaf tin with a knob of butter and dust liberally with oat flakes. In a mixer bowl add ingredients 4-9 and mix well by using the dough paddle on a low speed.
Pour in the curdled milk and yogurt and increase the speed to mix the thick paste dough well. Scrape the dough into the tin and sprinkle some more oat flakes on the top. Tap down the tin so the dough sits down in an even layer. Cover the top of the tin with foil. Bake for 25 minutes, remove the foil and bake for 25 more minutes.
Leave to cool down for a few minutes and then tip the bread out onto a cooling rack.
Cook's tip:
'I enjoy this with salmon gravlax or grilled tomatoes and olive tapenade,' says Theodore Kyriakou.
This page can be found at: http://secretsauce.co.uk/vegetarian/bread-recipes/honey-yogurt-bread/
A short link can also be used: http://bit.ly/YJkOty
Tims Dairy

Chilterns based family business Tims Dairy has made great tasting yogurts for over 60 years. Tims Dairy's range of yogurts, including Greek Style yogurts, all support UK farmers as they are made with fresh British milk and cream to create delicious yogurts which are free from artificial colours and flavours. Suitable for vegetarians and vegans, Tims Dairy yogurts are bio live, gluten free and GM free. The Tims Dairy yogurt range, www.timsdairy.co.uk, is available from selected branches of Asda, Budgens, Waitrose, Whole Foods Market and independent retail outlets, farm shops and delicatessens. They are also available online at Ocado.
More from Tims Dairy

A fantastic flavour pairing by top London chef Theodore Kyriakou who says: 'I like eating the salmon pink in the middle with some rice pilaf.'

A refreshing salad with a creamy sauce which is perfect for lunch or dinner. Why not try it for your next barbecue too?

Try this recipe by Theodore Kyriakou for breakfast - it also makes a great brunch or lunch dish and a delicious light supper.
Popular in bread recipes

Who can resist the smell of a freshly-baked loaf? And this wholemeal cottage loaf is good for your figure too!

If you like making your own bread, or you've never tried, this is a great recipe - full of subtle chilli flavour that will go with lots of savoury dishes

This cost-conscious savoury meal makes the most of bread that might be a little past its prime. It uses bread from a 3- to 4-day-old loaf to its best advantage to make a fantastic main course meal that's suitable for vegetarians