Sweet chilli focaccia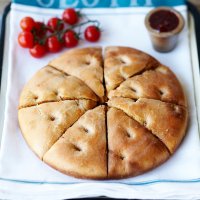 If you like making your own bread, or you've never tried, this is a great recipe - full of subtle chilli flavour that will go with lots of savoury dishes
Makes: 2 loaves
What you need:
650g/1lb 7oz Allinson Very Strong White Bread Flour
2 tsp salt
1 tsp Billington's Unrefined Golden Caster Sugar
2 tsp Allinson Easy Bake Yeast
4 tbsp chilli jam
3 tbsp olive oil
To finish:
4 tbsp olive oil
Coarse sea salt
What you do:
In a warm bowl, mix the Allinson flour, salt and Golden Caster sugar and stir in the yeast.
Measure out 400ml (14fl oz) warm water. To that, add the chilli jam and oil. Mix everything together to make a soft dough.
Knead for 10 mins on a lightly floured surface until smooth and elastic.
Oil two 23cm/9inch cake tins. Divide the dough into two pieces and roll each one into a 23cm/9inch circle and put into the tins.
Using your fingertips, make deep dimples all over the surface of the dough. Cover with cling film and leave in a warm place for 30 mins until doubled in size.
Preheat the oven to 230ºC/Fan 210ºC/ Gas Mark 8. Remove the cling film, drizzle each focaccia with olive oil and bake for 30 mins until golden and cooked through.
Cut into wedges and serve warm.
This page can be found at: http://secretsauce.co.uk/vegetarian/bread-recipes/sweet-chilli-focaccia/
A short link can also be used: http://bit.ly/ihhltH
Baking Mad

Baking Mad - with recipes and baking ideas, it's the place for everything you ever wanted to know about baking.
More from Baking Mad

Just look at the fantastic colour of the icing on these fairy cakes - and there's not a hint of food colouring in sight

The longer you soak the fruit for these Christmas cakes, the better the flavour will be. Then make the cake a few days before for a moisty gorgeous spongy texture. Heavenly!

Forget the traditional Cornish pasty, this sweet potato, smoked cheese and squash version is twice delicious!
Popular in bread recipes

Who can resist the smell of a freshly-baked loaf? And this wholemeal cottage loaf is good for your figure too!

This cost-conscious savoury meal makes the most of bread that might be a little past its prime. It uses bread from a 3- to 4-day-old loaf to its best advantage to make a fantastic main course meal that's suitable for vegetarians

The sweet apple flavour makes this loaf really delicious - serve it with your favourite soup