Grilled halloumi cheese & asparagus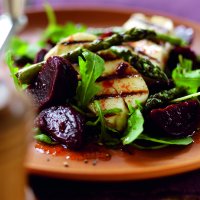 This simple and speedy salad tastes sensational with garlic and rosemary marinated beetroot
Serves: 4 as a starter
Preparation time: 5 minutes
Cooking time: 7 minutes approx
What you need:
1 x 250g pack halloumi, drained
1 x 150g pack asparagus tips, trimmed
2tbsp (30ml) olive oil
freshly ground black pepper
1 x 50g bag of rocket ready washed
1 x pouch Baxters Garlic & Rosemary Marinated Beetroot
What you do:
Heat a griddle or a non-stick frying pan. Use a sharp knife to slice the halloumi into 8, 1cm thick pieces. Place on a plate with the asparagus, drizzle over the olive oil, season with pepper, then turn until coated.
Add the halloumi to the hot pan and cook for 1 - 2 minutes on each side until golden and charred. Set aside whilst you cook the asparagus for 3 minutes, turning until lightly charred and just tender.
Meanwhile, divide the rocket between four plates. Empty the beetroot into a bowl, reserving the juice separately. Arrange the beetroot on top of the leaves, followed by the halloumi and asparagus. Drizzle over the reserved beetroot juice and serve.
This page can be found at: http://secretsauce.co.uk/vegetarian/asparagus-recipes/grilled-halloumi-cheese-and-asparagus/
A short link can also be used: http://bit.ly/hevH90
Baxters

The Baxters family, which is now in its fourth generation, has been producing some of Britain's finest soups, preserves, condiments, beetroot and a wide range of other fine quality food products since 1868.
More from Baxters

If this jam roly-poly pudding doesn't take you back to your childhood, then no pudding will!

This wonderfully rustic rosti topped bake makes a simple, mouth-watering main meal

If you're looking for a meal that's healthy, easy, cheap and quick, then this ticks all the boxes
Popular in asparagus recipes

Alex says: This makes a great meal for kids, the asparagus spears are fantastic finger food for them to pop their eggs with.'

Selles-Sur-Cher is a dry French goat's cheese packed with flavour which perfectly complements asparagus. This is a perfect starter for any occasion