Turkey tagliatelle with lemon, peppers & peas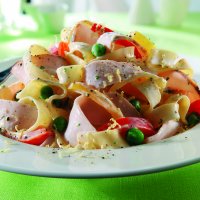 Turn a roast turkey into another dish so you don't waste your leftovers with this delicious turkey tagliatelle
Serves: 4
Preparation Time: 25 mins
Nutritional information:
Typical values /100g /serving
Energy kcal/kJ 94/396 279/960
Protein 8.3/24.5
Carbohydrate 12.6/37.9
Fat 1.1/3.3
Salt 0.3/0.9
Sodium 0.1/0.3
What you need:
100g Bernard Matthews Farms Golden Norfolk Turkey Breast Slices, cut into thin strips
180g tagliatelle (uncooked)
Spray cooking oil
1 red pepper, deseeded and cut into fine strips
1 yellow pepper, deseeded and cut into fine strips
200g tub low fat soft cheese with chives or garlic and herbs
6 tbsp skimmed milk
100g frozen petit pois or garden peas, thawed
Grated zest of 1 lemon
Salt and freshly ground black pepper
What you do:
Cook tagliatelle according to pack instructions.
Mist a wok or large frying pan with spray oil and stir fry the pepper strips for 5-6 minutes, until softened.
Put the soft cheese and milk into a saucepan and heat gently, stirring until melted and smooth. Add peas and most of the lemon zest. Cook for another minute or two until heated through.
Drain pasta well and return to the saucepan. Add the sauce to the peppers. Toss in the turkey strips and heat for a few moments.
Season and serve with the remaining lemon zest and a little salt and black pepper.
This page can be found at: http://secretsauce.co.uk/pasta-rice/turkey-recipes/turkey-tagliatelle-with-lemon-peppers-and-peas/
A short link can also be used: http://bit.ly/eaD49i
Bernard Matthews Farms

With over 55 years experience in turkeys at Christmas, Bernard Matthews Farms has lot of help to offer this yuletide. Whether it's tips on planning in the run up to Christmas, preparing the main meal itself or figuring out what to do with those turkey leftovers, Bernard Matthews Farms has all the Christmas expertise you need to lend you that 'helping hand'. Download the Merry Little Book of Christmas Dinners (available from Mid-November) for a stress-free, enjoyable Christmas!
More from Bernard Matthews Farms

If you've had a lovely roast turkey, don't waste the leftovers, use them up in this delicious sweet and sour recipe

Put your turkey leftovers to good use with a delicious soup. Serve with warm, crusty fresh brown bread

Being clever with your food and leftovers can really help you save money. Beat the credit crunch with this turkey risotto!
Popular in turkey recipes

The perfect way to use up your turkey leftovers in this pasta carbonara

Make sure you bookmark this turkey recipe as it's a great way to use up all your Christmas turkey leftovers!