Turkey lurky pasta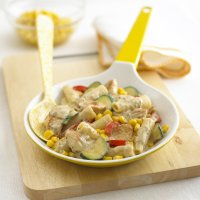 Make sure you bookmark this turkey recipe as it's a great way to use up all your Christmas turkey leftovers!

Serves: 4
Ready in: 25 minutes
Nutritional information per portion:

600 Cals - 30% GDA
10g Sugar - 11% GDA
15g Fat - 21% GDA
6g Sat Fat - 30% GDA
0.8g Salt - 4% GDA
1 portion of vegetables
Equipment:
1 large pan
colander or large sieve
1 large frying pan
What you need:
350g pasta eg penne or rigatoni
1 tbsp olive oil
400g turkey steaks cut into 2.5cm cubes
1 small onion, finely chopped
1 clove garlic, crushed
1 red pepper, deseeded and cut into short strips
1 large courgette, halved lengthways and sliced
200ml chicken stock
198g can Green Giant Sweetcorn, drained
3 tsp pesto sauce
200ml tub half-fat creme fraiche
What you do:
In a large pan, cook the pasta in boiling salted water according to the packet instruction. Drain when cooked.
Meanwhile heat the oil in a large frying pan, add the turkey and cook over a medium high heat for 4 minutes, add the onion garlic, red pepper and courgette and cook for a further 4 minutes, stirring
Pour in the stock, bring to the boil, cook for 3 minutes to reduce by half.
Stir the sweetcorn, pesto sauce and creme fraiche into the pan, cook over a medium heat until everything is heated through.
Add the drained pasta and toss together before serving.
This page can be found at: http://secretsauce.co.uk/pasta-rice/turkey-recipes/turkey-lurky-pasta/
A short link can also be used: http://bit.ly/fOegyH
Green Giant

Green Giant sweetcorn and specialty vegetables are the perfect way to make sure you and your family get their five recommended daily servings of fruit and vegetables a day. Products contain no artificial additives or preservatives, just lots of tasty goodness that everyone can enjoy.
More from Green Giant

Children love pasta and they'll love this dish with their favourite sweetcorn. This basic tomato sauce is a great standby recipe which will become a favourite dish as leftover ingredients can be added to ring the changes.

Italian dishes don't come finer than a traditional spaghetti Bolognese and this one is sure not to disappoint

Macaroni with a large helping of stretchy melted cheese and a creamy topping - comfort food doesn't get any better than this
Popular in turkey recipes

The perfect way to use up your turkey leftovers in this pasta carbonara

Turn a roast turkey into another dish so you don't waste your leftovers with this delicious turkey tagliatelle