Turkey soup with vegetable & herbs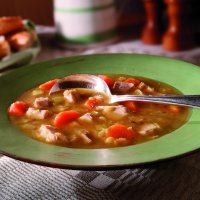 Put your turkey leftovers to good use with a delicious soup. Serve with warm, crusty fresh brown bread
Serves: 4
Preparation time: 15 mins
Calories per serving (kcal): 360
Fat per serving (grams): 3.5
What you need:
500g cooked turkey, diced or shredded
25g butter
1 large carrot, peeled and sliced
1 onion diced
1 leek sliced
1 celery stick sliced
50ml white wine
1 litre chicken stock
2 tsp dried thyme
100g lentils
Seasoning
What you do:
Melt butter in a large saucepan. Add onion, carrot, leek and celery. Cook for a few minutes until golden.
Stir in the wine and chicken stock. Bring to the boil. Lower heat and simmer for about 30 minutes.
Add the lentils and thyme and cook for a further 30 minutes until tender, stirring occasionally.
Add the turkey and seasoning to taste. Heat through and serve.
This page can be found at: http://secretsauce.co.uk/meat-poultry/turkey-recipes/turkey-vegetable-soup/
A short link can also be used: http://bit.ly/g113tG
Bernard Matthews Farms

With over 55 years experience in turkeys at Christmas, Bernard Matthews Farms has lot of help to offer this yuletide. Whether it's tips on planning in the run up to Christmas, preparing the main meal itself or figuring out what to do with those turkey leftovers, Bernard Matthews Farms has all the Christmas expertise you need to lend you that 'helping hand'. Download the Merry Little Book of Christmas Dinners (available from Mid-November) for a stress-free, enjoyable Christmas!
More from Bernard Matthews Farms

Turn a roast turkey into another dish so you don't waste your leftovers with this delicious turkey tagliatelle

If you've had a lovely roast turkey, don't waste the leftovers, use them up in this delicious sweet and sour recipe

Being clever with your food and leftovers can really help you save money. Beat the credit crunch with this turkey risotto!
Popular in turkey recipes

A roast turkey crown for Christmas makes a superb centrepiece to the table and there's little wastage. Devised by celebrity chef Phil Vickery

A traditional Italian meatball and passata dish with a British turkey twist!

If you're having a children's party but still want them to eat something healthy that's not full of additives, then this recipe is perfect as it feeds 25!