Turkey risotto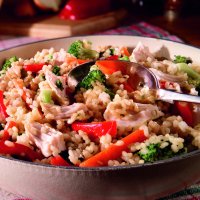 Being clever with your food and leftovers can really help you save money. Beat the credit crunch with this turkey risotto!
Serves: 3-4
Preparation time: 25mins
Calories per serving (kcal): 491
Fat per serving (grams): 9.9
What you need:
500g cooked turkey
200g broccoli florets, cut into small pieces
100g carrots, cut into small julienne strips
100g red pepper, cut into small julienne strips
2 tblsp oil
1 onion, chopped
200g short grain rice
600ml chicken stock
1tsp garlic puree
100g grated cheddar cheese
Seasoning
What you do:
Blanch broccoli florets, carrots and red peppers in boiling water for 2 minutes.
Fry onions in oil until soft, then add the rice and stir-fry for 2 minutes.
Add stock and bring to the boil.
Simmer for 20- 25 minutes until rice is cooked and mixture is creamy.
Add garlic puree and cheese and stir well. Stir in cooked turkey meat and seasoning.
Gently fold in the cooked vegetables and serve.
This page can be found at: http://secretsauce.co.uk/pasta-rice/risotto-recipes/turkey-risotto/
A short link can also be used: http://bit.ly/ejKHF2
Bernard Matthews Farms

With over 55 years experience in turkeys at Christmas, Bernard Matthews Farms has lot of help to offer this yuletide. Whether it's tips on planning in the run up to Christmas, preparing the main meal itself or figuring out what to do with those turkey leftovers, Bernard Matthews Farms has all the Christmas expertise you need to lend you that 'helping hand'. Download the Merry Little Book of Christmas Dinners (available from Mid-November) for a stress-free, enjoyable Christmas!
More from Bernard Matthews Farms

Turn a roast turkey into another dish so you don't waste your leftovers with this delicious turkey tagliatelle

If you've had a lovely roast turkey, don't waste the leftovers, use them up in this delicious sweet and sour recipe

Put your turkey leftovers to good use with a delicious soup. Serve with warm, crusty fresh brown bread
Popular in risotto recipes

A lovely, filling meal that takes only 5 minutes to prepare and there are some great tips at the end of this recipe to help you save money!

This recipe's really quick to make with tender asparagus and nutty Parmesan the stand-out flavours in this dish

Got home late, hungry and need a quick and easy meal for two? This mushroom, rocket and pea risotto is ready in a flash and will you leave you content!