Silvana Franco's super-quick creamy mushroom tagliatelle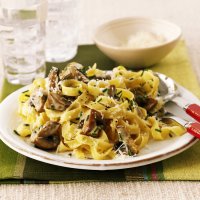 A delicious mid-week supper that's all ready to serve in under 20 minutes, devised by celebrity chef Silvana Franco. This is a vegetarian-friendly version of the Italian classic, Carbonara
Preparation: 5 mins
Cooking: 15-20 mins
Serves: 4
Costing: £1.35
Nutritional information:
Energy(kcal) (with half fat cream) 600
Protein 26.5
Fat (g) 26.4 Of which saturates (g) 12.0
Carbohydrate (g) 68.8 Of which sugars (g) 6.3
Fibre (g) 4.2
Salt (g) 0.5
One of your 5-A-DAY
What you need:
350g/12oz tagliatelle
a knob of butter
15ml/1 tbsp olive oil
3 cloves of garlic, chopped
2 (250g) packs chestnut mushrooms, quartered
4 large, free range eggs
1 (300ml) carton single cream (or 1(300ml) carton of half fat cream for a slimmer option)
75g/3oz Parmesan, freshly grated
45ml/3 tbsp chopped fresh chives
What you do:
Cook the pasta in a large pan of boiling salted water for about 10 mins or according to packet instructions, until 'al dente'.
Heat the butter and oil together in a large frying pan then sizzle the garlic for 30 secs, before adding the mushrooms. Cook over a high heat for 6-8 mins, stirring occasionally until the mushrooms are nicely browned. Remove from the heat and season to taste.
Lightly beat together the eggs and cream, stir in half of the Parmesan and seasoning.
Drain the pasta in a colander, return to the pan, and stir in the egg mixture, garlic mushrooms and chives and toss together well. The heat from the pasta will lightly thicken the sauce.
Divide between two bowls and top with the remaining Parmesan.
This page can be found at: http://secretsauce.co.uk/pasta-rice/tagliatelle-recipes/silvana-francos-quick-creamy-mushroom-tagliatelle/
A short link can also be used: http://bit.ly/hTmwRL
Skandi Candle
Pure soy wax candles in Flack Fig & Vetiver or Lemon fragrances - perfect for any dinner party or romantic night in.
Mushroom Bureau

Not only are mushrooms inexpensive and versatile, they are also satisfying, delicious and nutritious. Their succulent and unique meaty taste adds depth and gives a balanced flavour to dishes, making them a scrumptious meat substitute.
More from Mushroom Bureau

Actress Tamzin Outhwaite is a great fan of mushrooms - she loves this recipe for a quick, delicious and healthy stroganoff - perfect for a week-night

Tender prawns are great in stir-fries, the cashew nuts give this dish an added crunch and the shiitake mushrooms are tender and full of flavour

This delicious spaghetti dish is ready in under 15 minutes and you could serve it cold for a packed lunch the next day!
Popular in tagliatelle recipes

Actress Tamzin Outhwaite is a great fan of mushrooms - she loves this recipe for a quick, delicious and healthy stroganoff - perfect for a week-night

Creamy, delicious and filling - an easy and satisfying meal for the family