Bacon & mushroom risotto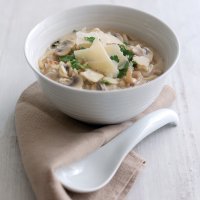 A lovely, filling meal that takes only 5 minutes to prepare and there are some great tips at the end of this recipe to help you save money!
Preparation time: 5 minutes
Cooking time: 30 minutes
Calories per portion:
479 Kcal
Fat per portion 20g of which saturated 6.4g
Serves: 2
What you need:
Sunflower oil 1 tbsp
Onion 1, peeled and chopped
Smoked back bacon 4 rashers, de-rinded and chopped
Button mushrooms ½ x 500g punnet, wiped and sliced
Risotto rice 110-150g (4-5oz)
White wine 125ml (4fl oz)
Boiling water 300-450ml (½-¾ pint)
Ham or vegetable stock cube 1
Salt and freshly ground black pepper
Grated or shaved Parmesan cheese for sprinkling
Basil leaves to garnish
What you do:
Heat the sunflower oil in a medium-sized saucepan and add the onion. Cook the onion for 3-5 minutes until it starts to soften, then add the bacon and mushrooms and cook for a further 7-10 minutes over a medium heat, until the bacon is cooked and the mushrooms have softened.
Add the rice to the pan and cook for about 1 minute, stirring continually. Add the wine and simmer gently until most of the liquid has dissolved, stirring regularly so that it does not stick to the base of the pan.
Dissolve the stock cube in 300ml (½ pint) of boiling water and add to the pan. Stir until the stock cube dissolves. Simmer the rice gently, stirring it occasionally for 12 15 minutes, or until all the water is absorbed. If the mixture thickens and the rice is not tender, then add some extra boiling water, but take care not to overcook the rice.
When the rice is tender, season to taste and serve the risotto with basil leaves and Parmesan cheese sprinkled on top.
Handy cook's tip:
To make the recipe more colourful, stir in a few halved cherry tomatoes towards the end of the cooking time.
Handy shopper's tip:
Look out for the small size bottles of wine and use half here. The rest may be kept in the fridge for up to a week.
This page can be found at: http://secretsauce.co.uk/pasta-rice/risotto-recipes/bacon-mushroom-risotto/
A short link can also be used: http://bit.ly/fHKzvU
Dairy Diary

The new Clever Cooking for One or Two cookbook is priced at £9.50 (plus £2P&P). To order a copy or for further information call 0845 0948 128, speak to your local milkman or visit Dairy Diary
More from Dairy Diary

This is a classic British dish that's like a giant sausage roll. Serve with greens and mustard for a traditional dinner for two

While you're getting this together, why not double up on the ingredients and freeze a lovely chicken and leek pie for another time?

When it comes to cakes, very little beats a moist, soft, light, fruity muffin and these raspberry versions are no exception
Popular in risotto recipes

Got home late, hungry and need a quick and easy meal for two? This mushroom, rocket and pea risotto is ready in a flash and will you leave you content!

This recipe's really quick to make with tender asparagus and nutty Parmesan the stand-out flavours in this dish

Red wine and blue cheese in a risotto? The perfect, easy adult dinner