Italian shallot, gorgonzola & rocket risotto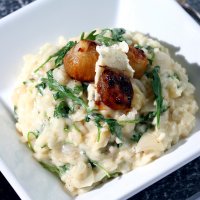 This is such a versatile recipe, you could try swapping some of the ingredients - take a look at our handy tip at the end of the recipe for some great ideas
Serves 4
What you need:
12 shallots, peeled and roughly diced
320g risotto rice
40g butter
2 tbsp olive oil
1l good chicken or vegetable stock
200g cubed gorgonzola cheese
50g grated parmesan
1-2 cloves garlic, peeled and crushed
Dash of white wine
50g rocket, washed
Sea salt and black pepper
What you do:
Heat the stock in a saucepan until just simmering, leave on a low heat. Melt the butter and olive oil in a heavy based saucepan until the butter is just foaming.
Add the diced shallots and sauté, stirring for 2 - 3 minutes until softened but not brown, then add the rice and garlic and mix with the shallots butter and oil. Cook until the rice turns slightly opaque but not browned, approximately 1 minute.
Add a good ladleful of hot stock. Stir until all the liquid has been absorbed. Continue adding the stock a ladleful at a time stirring constantly until the rice is slightly al denté i.e. with a slight bite to it. The consistency should be a thick porridge. Add the two cheeses and mix well. Season with black pepper and sea salt.
Stir in the rocket and cook for a further 30 seconds or until the rocket is just wilted. Remove from the heat. If the risotto becomes too thick add a little more stock, then serve with roasted whole balsamic shallots and shavings of parmesan.
Useful tip:
This basic shallot risotto could be used to make wild mushroom and shallot risotto, substitute 150g of grated parmesan cheese for the two cheeses and add 50g soaked porcini mushrooms instead of the rocket halfway through the cooking proces s.
This page can be found at: http://secretsauce.co.uk/pasta-rice/risotto-recipes/shallot-gorgonzola-risotto/
A short link can also be used: http://bit.ly/ex3TIQ
UK shallots
UK shallots are amongst the finest in the world with a uniquely mild, sweet flavour. Used for centuries as an important ingredient in both western and eastern cooking to add flavour, sweetness and piquancy, shallots turn savoury recipes into something really special.
More from UK shallots

Tender sea bass with a sauce of shallots, cream and herbs - perfect for a dinner party or a romantic dinner for two

Tender beef with the spice of chilli and the sweetness from sweet potato creates an exciting stew-type dish bursting with flavour.

Venison may be slightly unusual for a burger, but it tastes as good, if not better than traditional beef. So try something different tonight with this easy recipe.
Popular in risotto recipes

A lovely, filling meal that takes only 5 minutes to prepare and there are some great tips at the end of this recipe to help you save money!

This recipe's really quick to make with tender asparagus and nutty Parmesan the stand-out flavours in this dish

Got home late, hungry and need a quick and easy meal for two? This mushroom, rocket and pea risotto is ready in a flash and will you leave you content!