Creamy quinoa mushroom risotto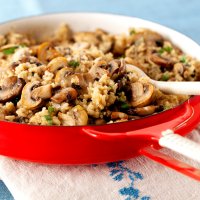 Quinoa is a staple food of parts of South America. It's an easily digestible grain which contains more protein than any other almost twice as much as rice. It works well in this recipe.
Preparation: 10 mins
Cooking: 25-30 mins
Serves: 4
What you need:
300ml boiling water
15g mixed dried mushrooms
900ml chicken or vegetable stock
2 tbsp olive oil
200g white closed cup mushrooms, sliced
200g brown closed cup mushrooms, sliced
1 onion, chopped
2 cloves garlic, crushed
175g quinoa
175g risotto rice
100ml dry white wine
25g freshly grated Parmesan cheese
2 tbsp snipped fresh basil leaves
What to do:
Place the dried mushrooms in a bowl, cover with the boiling water and leave to soak for 10mins, drain, reserving the liquid and chop the mushrooms. Place the chicken stock in a large pan, add the dried mushroom liquid and slowly bring to the boil, leave on a gentle simmer.
Heat half the oil in a large pan, add the mushrooms and sauté over a high heat for 2-3mins until golden brown. Transfer to a plate and set aside.
Add the remaining oil to the pan, add the onion and sauté for 2-3mins. Add the chopped dried mushrooms, garlic, quinoa and rice and stir for 30 seconds. Add the wine and gently simmer, stirring until the liquid has evapourated.
Add a ladleful of the hot stock to the rice mixture and cook, stirring until the liquid has been absorbed. Repeat until the rice is tender and the stock has all been used about 15-20mins. Stir in the reserved mushrooms, parmesan and basil and remove from the heat. Serve in bowls.
Nutritional info:
Not only is quinoa a superior source of protein compared with most grains, it is also provides plenty of the minerals magnesium and potassium. Mushrooms are also a good source of potassium making this a good dish a good choice for those worried about their blood pressure. Potassium helps to counteract the effects of sodium (salt) and keep blood pressure balanced. The quinoa and rice both provide slow release energy, which helps to keep blood sugar levels stable and keeps you feeling fuller for longer.
This page can be found at: http://secretsauce.co.uk/pasta-rice/risotto-recipes/quinoa-mushroom-risotto/
A short link can also be used: http://bit.ly/efuohz
Mushroom Bureau

Not only are mushrooms inexpensive and versatile, they are also satisfying, delicious and nutritious. Their succulent and unique meaty taste adds depth and gives a balanced flavour to dishes, making them a scrumptious meat substitute.
More from Mushroom Bureau

Actress Tamzin Outhwaite is a great fan of mushrooms - she loves this recipe for a quick, delicious and healthy stroganoff - perfect for a week-night

This delicious spaghetti dish is ready in under 15 minutes and you could serve it cold for a packed lunch the next day!

These little mushroom pies look so impressive but are really easy and quick to make.
Popular in risotto recipes

A lovely, filling meal that takes only 5 minutes to prepare and there are some great tips at the end of this recipe to help you save money!

This recipe's really quick to make with tender asparagus and nutty Parmesan the stand-out flavours in this dish

Got home late, hungry and need a quick and easy meal for two? This mushroom, rocket and pea risotto is ready in a flash and will you leave you content!