Rioja risotto with broad beans, cherry tomatoes & gorgonzola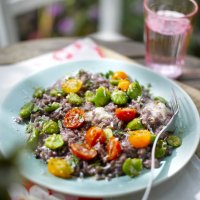 Red wine and blue cheese in a risotto? The perfect, easy adult dinner
Preparation: 15 mins
Cooking: 30 mins
Serves: 4
What you need:
150g broad beans, podded (approx. 300g unpodded)
4tbsp olive oil
4 shallots, finely chopped
2 cloves of garlic, finely chopped
300g risotto rice
Large glass of Rioja
1l hot chicken or vegetable stock
50g Parmesan, grated
50g Gorgonzola, crumbled
Salt and pepper
1tbsp olive oil
120g cherry tomatoes, cut in half
Small bunch of flat leaf parsley, chopped
What you do:
In a medium sized pan of boiling salted water blanch the broad beans for 2 minutes, then drain and refresh under cold running water. Squeeze the beans out of their shells and set aside.
In a large sauce pan heat the oil and then add the shallots and garlic, sweat for 8 minutes until soft without colouring. Then add the rice stirring every now and then until the rice has turned translucent.
Now add the wine and reduce by half. Slowly add the hot stock, a little at a time, stirring every now and then.
When nearly all of the stock has gone or the rice is cooked, turn off the heat and add 1/2 of the Parmesan and all of the Gorgonzola, season with salt and pepper and set aside in a warm place.
Heat a medium sized non-stick frying pan, and then add the olive oil, broad beans and cherry tomatoes, cook for 30 seconds until the tomatoes have wilted slightly, season with salt and pepper.
Divide the risotto between 4 warm plates, then top with the broad beans and tomatoes, sprinkle with parsley and the rest of the Parmesan and serve.
This page can be found at: http://secretsauce.co.uk/pasta-rice/risotto-recipes/rioja-risotto-with-broad-beans/
A short link can also be used: http://bit.ly/TOiUZ0
British beans and peas
British beans and peas evoke the taste of summers gone by. From June to September every year savour some of the freshest British Runner, Broad and Dwarf Beans and Peas that are home grown and bursting with goodness.
More from British beans and peas

Crunchy runner beans with fresh peas and healthy couscous - this is a super healthy vegetarian dish

Don't reach for the pesto jar for this pasta dish, why not try making your own?

Not got your Sunday lunch planned yet? This lamb shoulder dish could be just what you're looking for!
Popular in risotto recipes

A lovely, filling meal that takes only 5 minutes to prepare and there are some great tips at the end of this recipe to help you save money!

This recipe's really quick to make with tender asparagus and nutty Parmesan the stand-out flavours in this dish

Got home late, hungry and need a quick and easy meal for two? This mushroom, rocket and pea risotto is ready in a flash and will you leave you content!