Creamy mushroom penne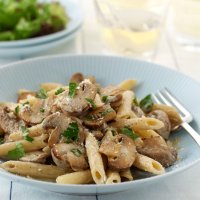 Comfort food doesn't get much better than this creamy mushroom penne and it's ready in just 15 minutes
Prep: 5 mins
Cooking: 10 mins
What you need:
350g Penne
1 tbsp olive oil
250g brown closed cup mushrooms, sliced
1 garlic clove, peeled and crushed
150ml dry white wine
200ml pot half fat crème fraîche
1/2 tsp freshly grated nutmeg
3 tbsp parmesan cheese
2 tbsp chopped fresh flat parsley
What to do:
Bring a large pan of boiling water to the boil. Add the penne and cook for 10 mins or according to packet instructions until just tender.
Whilst the pasta cooks make the sauce: Heat the oil in a large frying pan, when hot add the mushrooms and sauté for 5 mins over a high heat until golden brown. Add the garlic and cook for 1 min, stirring.
Add the white wine and cook briskly until nearly all the wine has evaporated. Add the crème fraîche then gently reheat until the sauce is smooth. Stir in the nutmeg and season to taste. Remove from the heat.
Drain the penne in a colander then return to the pan. Stir in the mushroom sauce and the cheese. Divide between plates then scatter over the parsley. Serve with more parmesan cheese if liked.
This page can be found at: http://secretsauce.co.uk/pasta-rice/penne-recipes/creamy-mushroom-penne/
A short link can also be used: http://bit.ly/gGgEfU
Mushroom Bureau

Not only are mushrooms inexpensive and versatile, they are also satisfying, delicious and nutritious. Their succulent and unique meaty taste adds depth and gives a balanced flavour to dishes, making them a scrumptious meat substitute.
More from Mushroom Bureau

Actress Tamzin Outhwaite is a great fan of mushrooms - she loves this recipe for a quick, delicious and healthy stroganoff - perfect for a week-night

This delicious spaghetti dish is ready in under 15 minutes and you could serve it cold for a packed lunch the next day!

Tender prawns are great in stir-fries, the cashew nuts give this dish an added crunch and the shiitake mushrooms are tender and full of flavour
Popular in penne recipes

With hardly any preparation required, this pasta dish delivers exactly what it says it will, it's quick and delicious!

Salty parma ham with deliciously sweet asparagus makes a main course full of flavour and filling too

This cheesy meatball and pasta bake makes a great midweek meal, perfect for all the family. The natural, mild taste of Dutch Edam means this pasta dish is a winner with the kids. Just serve with a crisp green salad.