Artichoke & pineapple paella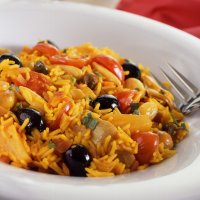 The sweet pineapple and cherry tomatoes in this vegetarian paella go perfectly with the salty capers and tasty artichokes
Serves: 4
What you need:
200g Basmati rice
1 red onion, chopped
2 pints vegetable stock
100g artichokes in oil, drained and halved
20g capers
100g whole almonds
2 medium carrots, diced
50g pineapple (tinned or fresh) cut into chunks
50g black olives
1 tbsp tomato puree
2 cloves garlic, finely chopped
100g button mushrooms, halved
10 cherry tomatoes, halved
2 tbsp balsamic vinegar
Small bunch fresh tarragon
1 tsp turmeric
2 tbsp olive oil
What you do:
Gently fry the onion in a little olive oil for a few minutes, add the garlic and continue to cook for a minute.
Add the mushrooms, carrots, turmeric and rice, cook for 2 minutes, stirring continuously.
Add 1.5 pints of the stock, stir then simmer for 7 minutes.
Add the capers, olives, pineapple, tomatoe puree, artichokes and half the tarragon. Stir and cook for 10 minutes, adding more stock as required.
When the rice is coked add the almonds, balsamic vinegar and tomatoes. Garnish with the remaining tarragon and serve.

Recipe created by the Cordon Vert cookery school
This page can be found at: http://secretsauce.co.uk/pasta-rice/paella-recipes/artichoke-pineapple-paella/
A short link can also be used: http://bit.ly/f1gFiE
Vegetarian Society

The Vegetarian Society is a registered charity committed to promoting the health, environmental and welfare benefits of a vegetarian diet.
More from Vegetarian Society

These Halloween snails look deliciously slimy. Who's going to be brave enough to take the first bite?

A fantastic ale and mushroom pie recipe perfect to warm you up when it's chilly outside and you want something tasty and filling

Need some get up and go in the morning? This smoothie is just what you need. Ready, steady...
Popular in paella recipes

A quick and tasty variation on this Spanish favourite created by TV cook James Tanner