Tempting chicken & prawn paella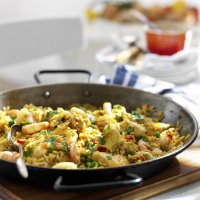 A quick and tasty variation on this Spanish favourite created by TV cook James Tanner
Preparation: 6 mins
Cooking: 8 mins
Serves: 4
What you need:
2 x 250g Uncle Ben's Express Golden Vegetable rice
300g x chicken fillets (cut in half across the breast)
150g x tiger prawns (fresh or frozen)
2 x cloves of minced garlic
1 x sliced small onion
½ x tsp turmeric
½ pint of chicken stock
1 x tbsp sunflower oil
What you do:
Heat a large non-stick frying pan on the stove top, add the oil, onion & garlic & cook for 1 minute. Next, add the chicken & turmeric & continue to cook for a further 2 minutes, making sure that the chicken is browned.
Open the Express rice packs and mix into the pan. Add the stock, mix well & bring to a gentle simmer. Put the lid on the pan & cook for 3 minutes.
Add the fresh prawns (or defrosted frozen prawns) & cover with a lid; continue to cook for a further 2 minutes.
Mix all the ingredients together, spoon into 4 serving bowls & serve.
Cook's tip:
Why not try… serving with Uncle Ben's Express Savoury Chicken rice if you fancy something a little different
This page can be found at: http://secretsauce.co.uk/pasta-rice/paella-recipes/tempting-chicken-and-prawn-paella/
A short link can also be used: http://bit.ly/eGfHon
Uncle Ben's

Uncle Ben's chefs have spent years developing a range of products that bring the flavours of the world to mealtimes. The range includes perfect rice, every time, the subtle flavours of the Orient, a Mexican Fiesta, a taste of Indian and a fantastic Thai range.
More from Uncle Ben's

This easy-to-make tasty meal is really healthy - helping you towards your 5-a-day. Make it with beef mince, or choose Quorn mince if you're vegetarian.

A family favourite, learn how to cook it up in minutes!

Make a tasty treat for Bonfire Night (and beyond!) with this easy solution for a fun family supper.
Popular in paella recipes

The sweet pineapple and cherry tomatoes in this vegetarian paella go perfectly with the salty capers and tasty artichokes