Prawn buckwheat noodles with soy & ginger shallots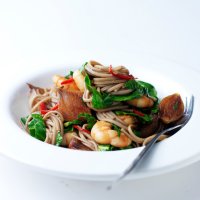 You can cook these prawn noodles in just 10 minutes, so no slaving over a hot stove for hours in your kitchen!
Serves: 4
Preparation time: 10 minutes, plus 20 minutes marinating time
Cooking time: 10 minutes
What you need:
12 small shallots, peeled halved
3 tbsp soy sauce
2.5cm piece fresh ginger, peeled and grated
2 tbsp sunflower oil
1 red chilli, seeded and finely sliced
2 garlic cloves, finely chopped
250g shelled large raw prawns
250g spring greens, trimmed and shredded
200g buckwheat noodles, cooked according to the instructions on the packet
What you do:
Put the shallots in a small, non-metallic bowl with the soy sauce and ginger. Cover and set aside to marinate for 20 minutes. Drain, reserving the marinade.
Heat the oil in a wok or large frying pan and add the shallots. Stir fry for 3 minutes, until starting to turn golden.
Add the chilli, and garlic and stir fry for 1 minute, then add the prawns and stir fry for another 2 minutes, until they have turned pink.
Add the spring greens to the pan and stir fry for 2 minutes, until just tender. Pour in the reserved marinade and simmer for 30 seconds. Add the cooked noodles to the pan and mix well. Serve straight away.
This page can be found at: http://secretsauce.co.uk/pasta-rice/noodle-recipes/prawn-noodles-shallots/
A short link can also be used: http://bit.ly/hisTq6
UK shallots
UK shallots are amongst the finest in the world with a uniquely mild, sweet flavour. Used for centuries as an important ingredient in both western and eastern cooking to add flavour, sweetness and piquancy, shallots turn savoury recipes into something really special.
More from UK shallots

Tender sea bass with a sauce of shallots, cream and herbs - perfect for a dinner party or a romantic dinner for two

Tender beef with the spice of chilli and the sweetness from sweet potato creates an exciting stew-type dish bursting with flavour.

Venison may be slightly unusual for a burger, but it tastes as good, if not better than traditional beef. So try something different tonight with this easy recipe.
Popular in noodle recipes

The soy-honey dressing is the perfect accompaniment to this easy stir-fry noodle dish

You may have tried sweet chilli sauce with a variety of meats, but have you ever tried it with crab meat? Make sure you're not missing out!

A delicious Thai dish full of flavour from the Orient, these prawn and tatsoi noodles are ready in just 10 minutes