Quark macaroni cheese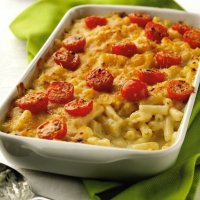 A great family favourite, this classic dish has been given the healthy treatment.
Preparation: 15 mins
Cooking: 25 mins
Serves: 6
What you need:
200g macaroni or other similar tube pasta
300ml semi-skimmed milk
2 tbsps (30g) cornflour
500g The Lake District Dairy Co. Quark
1 tsp (5ml) Dijon mustard
170g low fat mature cheddar
55g finely grated parmesan
200g cherry tomatoes
Salt and freshly ground black pepper, to taste
What you do:
Lightly butter a 1.125ml shallow ovenproof baking dish
Boil the macaroni in plenty of salted water for about 10-12 mins until just tender but still with some bite.
Preheat the grill
Mix the milk with the cornflour in a large saucepan, then gradually whisk in The Lake District Dairy Co. Quark and mustard
Slowly bring to the boil, stirring or whisking continuously. Boil gently for 1-2 mins then stir in the cheddar cheese. Season to taste
Drain the pasta then stir into the sauce, pour into the buttered dish and level. Halve the cherry tomatoes and arrange cut-side up over the surface. Scatter the parmesan over the top and place under the grill (not too close or it will burn) for about 5 mins until brown and bubbling
This page can be found at: http://secretsauce.co.uk/pasta-rice/macaroni-recipes/quark-macaroni-cheese/
A short link can also be used: http://bit.ly/15oFlGs
Skandi Candle
Pure soy wax candles in Flack Fig & Vetiver or Lemon fragrances - perfect for any dinner party or romantic night in.
Lake District Dairy Co. Quark

The Lake District Dairy Co. Quark – a naturally fat free and a brilliantly versatile dairy ingredient that's great for cooking, mixing and baking. It adds smooth, creamy richness without the extra calories and is great in sweet and savoury dishes. It's available in three great flavours: Original, Lemon and Vanilla.
More from Lake District Dairy Co. Quark

Everyone will be hungry when they smell and see the wonder that is beautiful fried mushrooms and warm melted quark oozing between the toast

These doughy disks are a joy to make and with spiced lamb, a tasty sauce and a bit of salad, BOOM! You've got a totally awesome meal in your hands.
Popular in macaroni recipes

This favourite family recipe from the 1970s is given a twist with the addition of leeks and mushrooms.

Macaroni with a large helping of stretchy melted cheese and a creamy topping - comfort food doesn't get any better than this

Comfort food at its best! This great family favourite is given a colourful new twist with the addition of turkey, Peppadew Peppers and broccoli.