Turkey & Peppadew pepper macaroni cheese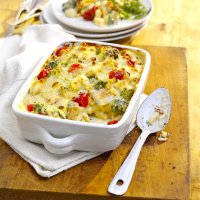 Comfort food at its best! This great family favourite is given a colourful new twist with the addition of turkey, Peppadew Peppers and broccoli.
What you need:
1tbsp olive oil
300g British turkey steaks, cut into bite-sized pieces
175g short-cut macaroni
225g cauliflower, divided into small florets
225g broccoli, divided into small florets
1/2 jar of Peppadew Mild Whole Sweet Piquante Peppers, well drained and halved
50g butter
50g plain flour
450ml milk
150ml single cream
1tbsp Dijon mustard
115g grated mature Cheddar cheese
4tbsp grated Parmesan
Salt and freshly ground black pepper
What you do:
1 Heat the oil in a frying pan and stir-fry the turkey for 3-4 minutes over a high heat until the chunks are golden brown. Drain from the pan and place in a large bowl.
2 Cook the macaroni in a large pan of boiling water for 5 minutes. Add the cauliflower and broccoli florets to the pan and cook for a further 4-5 minutes or until and macaroni is cooked and the vegetables are just tender. Drain and add to the bowl with the Peppadew Peppers.
3 To make the cheese sauce, melt the butter in a saucepan, stir in the flour off the heat and cook for 1 minute. Gradually stir or whisk in the milk and cream. Bring to the boil, stirring constantly until thickened and smooth. Remove from the heat and stir in the mustard, 75g of the Cheddar and 2 tablespoons of the Parmesan. Season with salt and freshly ground black pepper.
4 Preheat the oven to 200°C/400°F/gas 6. Pour the cheese sauce over the turkey, macaroni and vegetables, stirring until they are coated in the sauce. Spoon into a large shallow ovenproof dish. Sprinkle with the remaining cheeses and bake in the oven for 20 minutes or until golden and bubbling. Serve at once.
Cook's tip:
Other vegetables can be used instead of cauliflower and broccoli - peas, green beans, carrots, parsnips, courgettes and butternut squash would all work well. Also, if you have leftover cooked vegetables, this is a tasty way to use them up.
This page can be found at: http://secretsauce.co.uk/pasta-rice/macaroni-recipes/turkey-and-peppadew-pepper-macaroni-cheese/
A short link can also be used: http://bit.ly/RjJuJx
Skandi Candle
Pure soy wax candles in Flack Fig & Vetiver or Lemon fragrances - perfect for any dinner party or romantic night in.
British Turkey

British Turkey isn't just for Christmas! There are lots of delicious meals you can make with it. It's also a superfood - it's the only meat in 14 foods known to help you live a healthier and longer life.
More from British Turkey

A roast turkey crown for Christmas makes a superb centrepiece to the table and there's little wastage. Devised by celebrity chef Phil Vickery

A traditional Italian meatball and passata dish with a British turkey twist!

If you're having a kids' party, this will go down a treat. The ingredients here serve 25 children, but if you just want to make it for four adjust the ingredients by a third
Popular in macaroni recipes

A great family favourite, this classic dish has been given the healthy treatment.

This favourite family recipe from the 1970s is given a twist with the addition of leeks and mushrooms.

Macaroni with a large helping of stretchy melted cheese and a creamy topping - comfort food doesn't get any better than this