No-bake bacon lasagne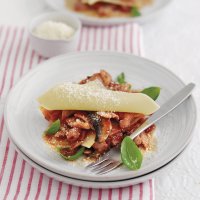 A no-bake lasagne? How does that work? Find out with this ingenious recipe. Serves 3-4
What you need:
240g dry cured oak smoked bacon rashers
15mlsp (1tbsp) olive oil
2 large mushrooms, sliced
1 clove of garlic, crushed
400g (approx) can chopped tomatoes
15mlsp (1tbsp) tomato ketchup
15mlsp (1tbsp) fresh flat leaf parsley, roughly chopped
8 fresh lasagne sheets, cut in half - or if dried lightly soaked in boiling water
Grated parmesan cheese
Fresh Basil leaves
Black pepper to season
What you do:
In a large non-stick saucepan heat the oil and fry the bacon, mushrooms and garlic for about 4 minutes. Add the chopped tomatoes and tomato ketchup / sauce and simmer for about 15 minutes.
Plunge lasagne sheets into boiling water for about 2-3 minutes (Follow pack instructions). Remove from water, rinse well and allow to drain.
Assemble & Serve:
Cut each lasagne sheet in half. Onto each plate start with a square of lasagne, top with a spoonful of sauce and repeat making up to 3-4 layers of lasagne.
Finish with the top being with a piece of lasagne, sprinkle generously with grated parmesan and scatter with fresh basil leaves.
Serve with mixed leaf salad
This page can be found at: http://secretsauce.co.uk/pasta-rice/lasagne-recipes/no-bake-bacon-lasagne/
A short link can also be used: http://bit.ly/YfgLJY
Skandi Candle
Pure soy wax candles in Flack Fig & Vetiver or Lemon fragrances - perfect for any dinner party or romantic night in.
Bacon Connoisseurs Week
Bacon Connoisseurs Week is set to revolutionise the nation's love affair with bacon. This special week celebrates all the fabulous cuts and cures of bacon and is a firm favourite in the foodie calendar. Running from 18 – 24 March 2013, Bacon Connoisseurs Week aims to revolutionise old attitudes, thoughts and usage of bacon.
Think you know your bacon? Think again! With literally hundreds of different cures in Britain, it is safe to say not all bacon is the same - with smoked, unsmoked, Maple cured, Wiltshire cured, hocks, steaks, joints and rashers to explore – the list is endless! Of course it's not just for breakfast either – enticing recipes for snacks, lunches and dinner prove that bacon can be enjoyed at anytime throughout the day.
More from Bacon Connoisseurs Week

Ever seen bacon in a curry? See if this recipe converts you!

A loaf? With bacon in it? A bacon buttie like you've never seen it before. Makes about 12-14 loaves

A delicious baked breakfast in one pot with crusty bread for dipping. Breakfast heaven
Popular in lasagne recipes

A shortlist of 5 quality ingredients is all you need to make this easy, impressive family favourite. Go on - give them a taste of what they really love!

A great, traditional recipe, sure to keep the whole family happy. Don't forget the garlic bread!

Gorgeous lasagne, sure to impress the eyes and taste buds