Classic lasagne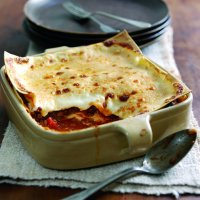 A great, traditional recipe, sure to keep the whole family happy. Don't forget the garlic bread!
Preparation: 20 mins
Cooking: 90 mins
What you need:
For the ragu sauce:
50g/2oz pancetta cubes or streaky bacon, finely chopped
50g/2oz chicken livers, roughly chopped
1 red onion, peeled and chopped
2 large garlic cloves, peeled and crushed
1 celery stick, finely chopped
1 carrot, peeled and finely chopped
1 small sprig fresh thyme
1 x 400g can chopped tomatoes
300ml/1/2 pint good, hot beef stock
5ml/1tsp caster sugar
30ml/2tbsp tomato puree
100ml/31/2floz good red wine
1 bay leaf
30ml/2tbsp freshly chopped flat-leaf parsley
5ml/1tsp freshly grated nutmeg
Salt and freshly milled black pepper
For the cheese sauce:
25g/1oz butter
25g/1oz plain flour
425ml/1/2 pint milk
75g/3oz grated hard cheese, e.g Cheddar
25g/1oz Parmesan cheese, grated
1 x 250g/9oz pack fresh lasagne sheets
What you do:
Heat a large non-stick pan and dry fry the mince with the pancetta and chicken livers for 3-4 minutes until brown, breaking up any lumps with the back of a spoon. Transfer to a large bowl. Cook the onion, garlic, celery and carrot in the same frying pan for 2-3 minutes.
Add the remaining ragu ingredients, bring to the boil, reduce the heat, cover and simmer for 1 hour, stirring occasionally. Remove the bay leaf and thyme sprig.
Meanwhile, to make the cheese sauce; heat the butter in a non-stick pan until foaming then whisk in the flour. Remove the pan from the heat and slowly add the milk, return to the heat and cook until thickened, stirring continuously. Add the cheese and season if required.
Preheat the oven to Gas Mark 5, 190°C, 375°F. Place a layer of lasagne sheets in the base of a 25cm/10inch square ovenproof dish. Spoon half the rag° mixture over the pasta then half the cheese sauce. Repeat with another layer of lasagne and ragu, then finish with a final layer of lasagne sheets and sauce. Sprinkle the Parmesan cheese.
Bake in the oven for 30 minutes and serve with a mixed salad and garlic bread.
Cook's tip:
As an alternative, if preferred, replace the lasagne sheets with corn tortillas or wraps and cook at Gas Mark 7, 220°C, 425°F for 15-20 minutes.
This page can be found at: http://secretsauce.co.uk/pasta-rice/lasagne-recipes/classic-lasagne/
A short link can also be used: http://bit.ly/egDPMe
Quality Standard beef

Quality Standard beef is produced to higher standards than required by law with a supply chain which is fully assured and independently inspected at every stage from farm to meat counter. For more recipes visit the recipe club.
More from Quality Standard beef

Don't bore your guests with the usual party canapes, impress them with these little lovelies instead

A hearty and warming autumn dish that's easy to prepare and is well worth the wait!

All the hard work for this delicious dish is in the cooking - just pop in the oven and leave to tenderise and soak up the flavours
Popular in lasagne recipes

A shortlist of 5 quality ingredients is all you need to make this easy, impressive family favourite. Go on - give them a taste of what they really love!

Gorgeous lasagne, sure to impress the eyes and taste buds

A no-bake lasagne? How does that work? Find out with this ingenious recipe. Serves 3-4