Bombay bacon curry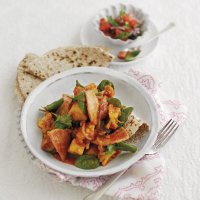 Ever seen bacon in a curry? See if this recipe converts you!

Cooking: 30 mins
Serves: 4

What you need:

200g (7oz) sweet cured unsmoked back bacon rashers
15ml (1tbsp) oil
1 onion, sliced
2 cloves garlic, crushed
30ml (2tbsp) medium curry powder
30ml (2tbsp) ground cumin
1 courgette, thickly sliced
1/2 (about 200g) cauliflower, cut into small florets
2 potatoes, skin on and cut into small cubes
100ml water
2 x (approx) 400g can chopped tomatoes
30ml (2tbsp) fresh coriander, roughly chopped
2 large handfuls baby spinach

What you do:
Place oil in large saucepan and heat, add the bacon, onion and garlic and cook for 1-2 minutes. Add the curry powder and cumin, combine well together. Then add the courgette, cauliflower, potatoes and water. Stir well.
Next add the tomatoes and bring to the boil, cover with lid and simmer for about 15-20 minutes until the potatoes are soft.
Just before serving stir through the coriander and spinach and serve with warmed chapattis and a side order of chopped fresh tomato, red onion and coriander mixed together drizzled with a little flavoured oil.
This page can be found at: http://secretsauce.co.uk/meat-poultry/bacon-recipes/bombay-bacon-curry/
A short link can also be used: http://bit.ly/164zPdq
Skandi Candle
Pure soy wax candles in Flack Fig & Vetiver or Lemon fragrances - perfect for any dinner party or romantic night in.
Bacon Connoisseurs Week
Bacon Connoisseurs Week is set to revolutionise the nation's love affair with bacon. This special week celebrates all the fabulous cuts and cures of bacon and is a firm favourite in the foodie calendar. Running from 18 – 24 March 2013, Bacon Connoisseurs Week aims to revolutionise old attitudes, thoughts and usage of bacon.
Think you know your bacon? Think again! With literally hundreds of different cures in Britain, it is safe to say not all bacon is the same - with smoked, unsmoked, Maple cured, Wiltshire cured, hocks, steaks, joints and rashers to explore – the list is endless! Of course it's not just for breakfast either – enticing recipes for snacks, lunches and dinner prove that bacon can be enjoyed at anytime throughout the day.
More from Bacon Connoisseurs Week

A no-bake lasagne? How does that work? Find out with this ingenious recipe. Serves 3-4

A loaf? With bacon in it? A bacon buttie like you've never seen it before. Makes about 12-14 loaves

A delicious baked breakfast in one pot with crusty bread for dipping. Breakfast heaven
Popular in bacon recipes

Fenland celery tastes delicious when roasted. Cooking it in little parcels keeps all the flavours and lovely juices in. Try this easy recipe for family suppers, children love anything wrapped up!

Bored of your usual lunch and have absolutely no time to spare? This delicious salad packs a real punch of flavours and is ready in under 15 minutes.

Only got 5 minutes to cook a meal for 4? This one's tasty, filling and ready in a flash