Lasagne with mushrooms & French goat's cheese log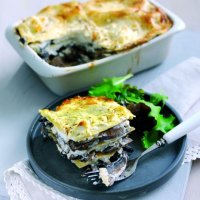 A light, vegetarian lasagne made with goat's cheese and mushrooms. Perfect served with a crispy green salad.
Preparation: 30 mins
Cooking: 30 mins
Serves: 6
What you need:
200g mild ripe French goat's cheese log, crumbled or sliced
20g dried porcini mushrooms
600g mixed Portobello and chestnut mushrooms
2 tbsp olive oil, plus extra for greasing
2 chopped shallots
2 finely chopped garlic cloves
2 finely chopped sprigs of rosemary
Sea salt and freshly ground black pepper
50mls white wine
Large handful of flat-leaf chopped parsley
12 sheets of fresh lasagne pasta
For the topping
200ml creme fraiche
2 larges egg yolk
100g crumbled mild French goat's cheese log
What you do:
Soak the dried porcini mushrooms in a small bowl with enough boiling water to cover. Leave for 10-15 minutes until soft. Scoop out the mushrooms and squeeze out the excess water. Reserve the soaking liquid.
Peel the large mushrooms and slice them all into roughly the same size slices. Heat a large frying pan with the oil, and then add the shallots, garlic and rosemary. Saute over a medium heat for 4-5 minutes until the shallots are soft. Add both the soaked and fresh mushrooms to the shallots and garlic with some salt and pepper and saute over a high heat for 2-3 minutes.
Add a splash of white wine and a little of the reserved soaking liquid from the porcini. Season with salt and pepper and add in the chopped parsley. Leave to cool.
To make the topping, beat the creme fraiche, egg yolk and crumbled mild French goat's cheese log together in a bowl with salt and pepper.
Lightly grease an ovenproof dish, measuring about 20 x 30cm, with olive oil. Cover the bottom of the dish with a layer of the mushroom mixture, followed by some of the mild French goat's cheese log. Arrange a layer of lasagne sheets on top, then repeat the layering process twice more, finishing with a layer of lasagne.
Pour the topping over the lasagne, sprinkle with the remaining mild French goat's cheese log.
Bake for 30 minutes or until the topping is golden brown and bubbling. Leave the lasagne to stand for 5-10 minutes before serving.
This page can be found at: http://secretsauce.co.uk/pasta-rice/lasagne-recipes/lasagne-with-mushrooms-an-french-goats-cheese-log/
A short link can also be used: http://bit.ly/sFKKUq
French goat's cheese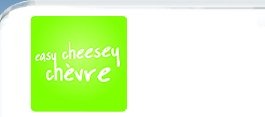 Award-winning chef Sophie Wright is the French goat's cheese Ambassador. She says, "I'm passionate about simple, practical recipes. French goat's cheese is so versatile and easy to use, as it moulds well with lots of food styles. Just pick up some chèvre at your local supermarket or local deli. It can be used to whip up mouthwatering meals at short notice. Ranging from mild to strong, creamy to hard, chèvre is great as a lunchtime treat or a sophisticated dinner party dish."
More from French goat's cheese

These delicious fish cakes have a secret molten fondant of creamy French goat's cheese in the middle, so no need to serve with a sauce!

Selles-Sur-Cher is a dry French goat's cheese packed with flavour which perfectly complements asparagus. This is a perfect starter for any occasion

A warm French goat's cheese salad with pear, endive and pomegranate seeds that's bright and colourful. Perfect as a side dish, starter, main course or lunch.
Popular in lasagne recipes

A shortlist of 5 quality ingredients is all you need to make this easy, impressive family favourite. Go on - give them a taste of what they really love!

A great, traditional recipe, sure to keep the whole family happy. Don't forget the garlic bread!

Gorgeous lasagne, sure to impress the eyes and taste buds