Chicken pesto penne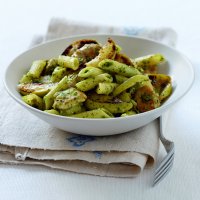 You've heard the expression cheap as chips, well this recipe is cheaper than chips and better for you too!
Serves: 4
Cost approx: 75p per portion
Preparation time: 5 minutes
Cooking time: 20 minutes
What you need:
250g penne pasta
2 tbsp olive oil
2 Bramley apples; quartered, cored and sliced
2 chicken breast fillets; finely sliced
4 tbsp pesto sauce
What you do:
Bring a large pan of salted water to the boil, add the penne then cook for 10 - 12 minutes or according to packet instructions until tender.
Whilst the pasta cooks, heat half the oil in a large frying pan, add the Bramley apple slices and sauté for 3 minutes or until browned. Transfer to a plate.
Add the remaining oil to the pan; add the chicken and sauté over a high heat for 4 minutes until pale golden.
Drain the pasta in a large colander then return to the pan, add the chicken and apple mixture and pesto sauce, then toss well to mix. Spoon into bowls and serve.
This page can be found at: http://secretsauce.co.uk/pasta-rice/chicken-recipes/chicken-pesto-penne/
A short link can also be used: http://bit.ly/i9WdaV
Bramley Apples

The Bramley is rightly recognised by professional chefs and home cooks alike as the best apple for cooking. Grown only in Britain, the Bramley's unique qualities make it one of the most versatile ingredients, equally at home in a savoury stir fry as a traditional apple pie.
More from Bramley Apples

Cheap ingredients, quick to make, but packed full of flavour and perfect with a lovely cup of tea!

The blend of hot spices, sour flavours and lentils make a dhansak a popular curry. Try serving it with basmati rice and a cooling raita.

These are tasty snacks, which may be served warm or cold
Popular in chicken recipes

One of the most-sold dishes in Chinese takeaways, but why pick up the phone when you can make an even nicer chicken chow mein at home?

A tasty pasta dish with a difference! Surprisingly easy to make yet it will wow at any dinner party