Chicken chow mein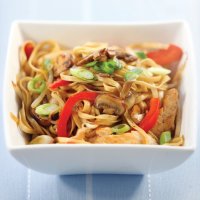 One of the most-sold dishes in Chinese takeaways, but why pick up the phone when you can make an even nicer chicken chow mein at home?
Serves: 4
Preparation time: 10 minutes
Cooking time: 10 minutes
What you need:
240g Blue Dragon Medium Egg Noodles (4 nests)
2 tbsp vegetable oil
2 chicken breasts, cooked and finely sliced (or any other protein)
2 tsp fresh ginger, peeled and finely chopped
2 garlic cloves, crushed
2 red peppers, finely sliced
200g bean sprouts
50g shiitake mushrooms, sliced
Spring onions, sliced
2 sachets Blue Dragon Chow Mein Stir Fry Sauce
Blue Dragon Dark Soy Sauce, to taste
What you do:
Cook the Blue Dragon noodles according to the pack instructions, until 'al dente' (i.e. they still have 'bite'). Drain and set aside.
Heat the oil in the wok; add the ginger and then the garlic. Stir fry to allow the aroma to be released.
Add the peppers, mushrooms, spring onion and chicken and stir fry for 2 minutes.
Stir in the bean sprouts followed by the noodles.
Add the Blue Dragon Chow Mein Stir fry Sauce and stir fry until heated through. Add Blue Dragon Soy Sauce to taste. Serve immediately.
This page can be found at: http://secretsauce.co.uk/pasta-rice/chicken-recipes/chicken-chow-mein/
A short link can also be used: http://bit.ly/dXm55v
Blue Dragon

Blue Dragon was created over 30 years ago to help British people create authentic Chinese dishes at home. Since then it's gone truly pan-Asian, with ingredients to help create delicious dishes from Thailand, Japan and Vietnam and expanding the Chinese range.
More from Blue Dragon

Cocktail sausages cooked in honey are popular finger food, but wait until you've tried these sweet chilli versions

Isn't curry Indian? Not in this recipe - it's Chinese and delicious with egg fried rice

A delicious and unusual recipe, this sticky plum and duck stir-fry is amazing served with beetroot crisps and pistachios
Popular in chicken recipes

A tasty pasta dish with a difference! Surprisingly easy to make yet it will wow at any dinner party

You've heard the expression cheap as chips, well this recipe is cheaper than chips and better for you too!