Baked stuffed cannelloni with spinach & ricotta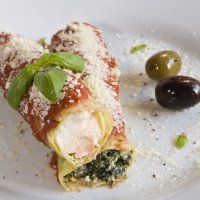 A great and versatile supper time solution, this Loyd Grossman bake gives everyone from the budding chef to the culinary novice a chance to get a creative in the kitchen.
Serves: 2-3 adults
What you need:
250g Spinach - washed and large stalks removed
20g Butter
150g Ricotta Cheese
4 Tablespoons Parmesan Cheese
6 Cannelloni Tubes (dried no pre cook type)
1 Jar Loyd Grossman AL Forno Spinach and Ricotta Sauce
What you do:
Place butter in a pan and heat until it is melted and starting to bubble.

Add the spinach and cook for 4-5 minutes until the spinach is cooked.

Set aside to cool and drain off any large amounts of excess water.

Add the ricotta and half the Parmesan and mix well.

Either using a piping bag with a large nozzle, or a teaspoon, fill the cannelloni tubes with the spinach and ricotta mix.

Place a tablespoon of Al Forno sauce at the bottom of the dish, arrange the filled tubes in an oven-proof dish and cover with the rest of the sauce.

Top with the cheese and place in a preheated (180C) oven for 30-35 minutes.
This page can be found at: http://secretsauce.co.uk/pasta-rice/cannelloni-recipes/baked-stuffed-cannelloni-with-spinach-and-ricotta/
A short link can also be used: http://bit.ly/eeFhoA
Loyd Grossman

Try Loyd Grossman's deliciously tasty food range, including pour over sauces, soups, pasta and breads, for premium quality and inspired variety.
More from Loyd Grossman

With hardly any preparation required, this pasta dish delivers exactly what it says it will, it's quick and delicious!

This fresh seafood and spicy chorizo paella cooked with a rich tomato and basil sauce makes a perfect one-pot dinner to share alfresco.

A fusion of juicy tomatoes, fresh cream, natural yoghurt with aromatic spices and a hint of honey served with king prawns
Popular in cannelloni recipes

Chef Peter Sidwell says: 'The creaminess of the ricotta works perfectly in this recipe but, I have to admit, I'm a sucker for the crispy bits!

There's no beef in this cannelloni, just a bit of ham and the main component is healthy, crunchy beans!