Baby spinach & ricotta easy cannelloni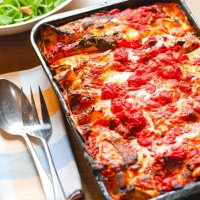 Chef Peter Sidwell says: 'I always serve up this dish when I have meat-eaters and vegetarians round for dinner - it seems to go down well with both parties. The creaminess of the ricotta works perfectly in this recipe but, I have to admit, I'm a sucker for the crispy bits!
What you need:
1kg (2lb) spinach
300g (10oz) ricotta cheese
2 egg yolks
150g (5oz) Parmesan, grated
4 tbsp toasted pine nuts
nutmeg
salt and pepper
For the white sauce
50g (2oz) butter
50g (2oz) plain flour
600ml (1 pint) milk
12 fresh lasagne sheets
2 ladlefuls - about 175ml
(6fl oz) basic tomato sauce
75g (3oz) breadcrumbs
olive oil, for drizzling
What you do:
Heat a large pan and add the spinach with a sprinkle of salt and pepper, and just a splash (max 2 tbsp) of water - all you need is to create a little steam to cook the spinach.
After about 4-5 minutes the spinach will wilt and darken. Turn off the heat and leave to cool. You should have around 500g (1lb) cooked spinach.
Scoop the ricotta into a mixing bowl and add the egg yolks, half the grated Parmesan, the pine nuts and a few rasps of grated nutmeg, just to give a little flavour. Mix together and season with a little salt and plenty of black pepper.
When the spinach is cooled, squeeze out as much water as you possibly can using your hands - you will get more out of it than you think. Place the spinach on a chopping board, chop it up using a large knife, then add to the ricotta mixture.
Make a white sauce: melt the butter in a pan, add the flour and mix together to form a paste. Stir the mixture for a minute or so, to cook the flour so it will thicken without leaving a floury taste. Add the milk a little at a time and mix. I find a whisk works best for this job. Cook the sauce on a medium heat, stirring, until it thickens. Season with a little salt and pepper, then leave to stand until you are ready.
Heat the oven to 180 ̊C/350 ̊F/Gas Mark 4.
Lay out all the sheets of fresh lasagne on a chopping board. If you don't have enough space, do this part in two stages. You're going to roll up the lasagne sheets round the filling to form the cannelloni.
Place 1 ladleful of the tomato sauce in the bottom of an ovenproof dish, then divide the remaining sauce between the sheets of pasta. Then add the ricotta and spinach filling, shaping the filling across the shortest side of the sheet in a sausage shape. Roll the pasta up around the filling just like a sausage roll.
Place the rolled up pasta tubes in the ovenproof dish. Pour over the white sauce and top with the remaining Parmesan and breadcrumbs. Drizzle with a little olive oil to help get those breadcrumbs really crispy, then bake in the oven for 40 minutes until golden.
This page can be found at: http://secretsauce.co.uk/pasta-rice/cannelloni-recipes/baby-spinach-and-ricotta-easy-cannelloni/
A short link can also be used: http://bit.ly/zoimti
Simply Good Pasta by Peter Sidwell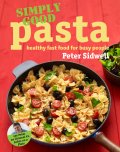 Presenter of Channel 4's cookery series, Lakes on a Plate and author of Simply Good Taste and Simply Good Bread, TV chef, Peter Sidwell is back with his no-nonsense cookbook – Simply Good Pasta – a seasonal selection of light, quick and snappy fresh pasta recipes for those who want to run riot in the kitchen and create!
Simply Good Pasta is published by Simon & Schuster UK, priced £14.99. The book is available from March 2012.
More from Simply Good Pasta by Peter Sidwell

When you start to see tender stems of purple sprouting broccoli for sale, it means spring is here!
Popular in cannelloni recipes

A great and versatile supper time solution, this Loyd Grossman bake gives everyone from the budding chef to the culinary novice a chance to get a creative in the kitchen.

There's no beef in this cannelloni, just a bit of ham and the main component is healthy, crunchy beans!