Sausages with sweet & sour mash & caramelised chilli onions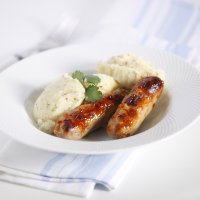 It's freezing outside and there's nothing more warming and comforting than bangers and mash with a delicious Oriental twist
Serves: 2/3
What you need:
6 pork sausages
500g mashed potato
6 spring onions, finely chopped
1 large onion
50g Butter
80ml Blue Dragon Thai Sweet Chilli Dipping Sauce (Original)
Blue Dragon Chinese Sweet & Sour Squeezy Sauce
What you do:
Grill the sausages until cooked through, keep warm.
Make the mashed potato using the spring onions, butter and sweet chilli sauce.
Fry the onions in a pan until soft, add 2 tbsp of Blue Dragon Chinese Sweet & Sour Squeezy Sauce and cook until thick and sticky.
To serve place the sausages onto the mash and spoon over the onions.
Handy chef's tip:
Use cocktail sausages split them and fill with the mash.
This page can be found at: http://secretsauce.co.uk/meat-poultry/sausage-recipes/sausages-with-sweet-and-sour-mash/
A short link can also be used: http://bit.ly/gZVIop
Blue Dragon

Blue Dragon was created over 30 years ago to help British people create authentic Chinese dishes at home. Since then it's gone truly pan-Asian, with ingredients to help create delicious dishes from Thailand, Japan and Vietnam and expanding the Chinese range.
More from Blue Dragon

Cocktail sausages cooked in honey are popular finger food, but wait until you've tried these sweet chilli versions

Isn't curry Indian? Not in this recipe - it's Chinese and delicious with egg fried rice

A delicious and unusual recipe, this sticky plum and duck stir-fry is amazing served with beetroot crisps and pistachios
Popular in sausage recipes

This is a classic British dish that's like a giant sausage roll. Serve with greens and mustard for a traditional dinner for two

This is the best breakfast, especially if you've over-indulged a little the night before, but don't save it until then, it's great for dinner too!

Cocktail sausages cooked in honey are popular finger food, but wait until you've tried these sweet chilli versions