Sausage & corn hash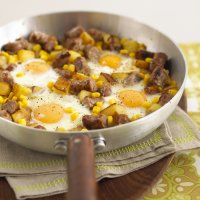 A delicious mixture of ingredients that make a dish suitable for a quick supper or serve for brunch while enjoying a lazy weekend. There are many flavours of sausages available so choose those to suit your taste such as Cumberland or sausage and leek or ones with chilli. Serve with grilled cherry tomatoes or halved beefsteak tomatoes to complete the meal.
What you need:
Equipment:
Medium Saucepan
Grill pan
Tongs
Large frying pan
Baking sheet
Ingredients:
450g potatoes, peeled
340g chipolata sausages
1 tsp vegetable oil
1 small onion, chopped
198g can Green Giant Sweetcorn, drained
4 large eggs
4 beefsteak, halved or 150g cherry tomatoes on the vine
What you do:
Cut the potatoes into 2.5cm (1") cubes and put into a pan with boiling water, boil for 6-7 minutes until almost cooked. Tip into a sieve and drain. While the potatoes are cooking, put the sausages under the grill and cook for 6 minutes, turning until browned. Remove and using tongs, cut into 3 cm pieces.
Heat a very large frying pan, add the oil and then the potatoes and cook over a medium high heat, turning them for about 5 minutes until they are turning brown. Add and onion and continue to cook for a further 5 minutes or until the potatoes have a golden crust. Stir in the sausages and sweetcorn and toss together for 1-2 minutes
Make 4 dips in the hash and crack an egg into each one. Cover with a lid or baking sheet and cook over a medium low heat for 8-10 minutes until the whites are set and the yolks still soft. While the eggs are cooking grill, brush the tomatoes with a little oil and grill. Serve the hash with the tomatoes.
Handy cook's tip:
Look for good quality sausages as generally they will contain less fat and more meat.
This page can be found at: http://secretsauce.co.uk/meat-poultry/sausage-recipes/sausage-and-corn-hash/
A short link can also be used: http://bit.ly/fSWnAK
Green Giant

Green Giant sweetcorn and specialty vegetables are the perfect way to make sure you and your family get their five recommended daily servings of fruit and vegetables a day. Products contain no artificial additives or preservatives, just lots of tasty goodness that everyone can enjoy.
More from Green Giant

Children love pasta and they'll love this dish with their favourite sweetcorn. This basic tomato sauce is a great standby recipe which will become a favourite dish as leftover ingredients can be added to ring the changes.

Italian dishes don't come finer than a traditional spaghetti Bolognese and this one is sure not to disappoint

Macaroni with a large helping of stretchy melted cheese and a creamy topping - comfort food doesn't get any better than this
Popular in sausage recipes

This is a classic British dish that's like a giant sausage roll. Serve with greens and mustard for a traditional dinner for two

This is the best breakfast, especially if you've over-indulged a little the night before, but don't save it until then, it's great for dinner too!

Cocktail sausages cooked in honey are popular finger food, but wait until you've tried these sweet chilli versions