Bangers & mash with red onion gravy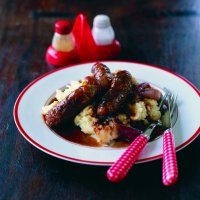 Bangers and mash that will set the season's standard for winter warmers
Preparation: 10 mins
Cooking: 40 mins
Serves: 2
What you need:
1 medium red onion
Olive oil
1tsp fresh thyme leaves
500g potatoes
4 butchers' handmade sausages
Knob of butter
Splash of milk
300g low salt beef stock / low salt stock cube in 300ml hot water
100ml red wine
1tbsp Heinz Tomato Ketchup
1 rounded tsp wholegrain mustard
What you do:
Pre-heat the oven to 200°C.
Cut the onion in half and then each half into four segments and put them in a small roasting dish, drizzle with olive oil, sprinkle the thyme over and season (if required).
Roast at 200°C for 20 minutes.
Peel the potatoes and cut into chunks.
Boil in lightly salted water for 15-20 minutes until cooked through.
Grill the sausages gently under a medium heat, turning as needed for 15-20 minutes.
In the meantime make the onion gravy.
Bring the stock up to the boil in a pan and add the red wine and Heinz Tomato Ketchup.
Turn down the heat a little and simmer for about 10 minutes, to reduce the liquid by half.
Take the roasted onions out of the oven and add them to the gravy whilst it is still simmering, pressing them down with a fork to release the segments.
Drain the cooked potatoes, add a knob of butter, a splash of milk, mustard, season with black pepper (if required) and mash well.
Cook's tip:
To serve this great traditional dish, place a good dollop of mash on the plate, place the sausages onto the mash and pour over the rich onion gravy.
This page can be found at: http://secretsauce.co.uk/meat-poultry/sausage-recipes/bangers-and-mash-with-red-onion-gravy/
A short link can also be used: http://bit.ly/hzQo8Y
Heinz Tomato Ketchup

Heinz have launched their Secret Ingredient campaign to help parents create meals from scratch which appeal to the whole family.
Celebrity chef Paul Rankin (a regular on Ready, Steady, Cook) has helped to create a range of delicious recipes, all featuring Heinz Tomato Ketchup as the secret ingredient. These recipes have been created to be healthy, quick and easy.
More from Heinz Tomato Ketchup

A quick and easy family favourite, with great flavour.

A beautifully colourful chilli con carne with a dollop of soured cream

Gorgeous lasagne, sure to impress the eyes and taste buds
Popular in sausage recipes

This is a classic British dish that's like a giant sausage roll. Serve with greens and mustard for a traditional dinner for two

This is the best breakfast, especially if you've over-indulged a little the night before, but don't save it until then, it's great for dinner too!

Cocktail sausages cooked in honey are popular finger food, but wait until you've tried these sweet chilli versions