Eighties homemade thin chips with Caesar salad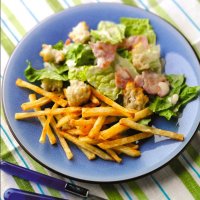 A simple and easy dish, it makes for an ideal weeknight dinner
Preparation: 10 mins
Cooking: 30 mins
Serves: 4
What you need:
For the salad:
2 thick slices of bread
1 tbsp olive oil
3 thick rashers of bacon, cooked
3-4 tbsp ready prepared Caesar dressing
1 cos or romaine lettuce, leaves separated
For the chips:
3-4 medium potatoes, such as Maris Piper, King Edward or Desiree (about 1kg)
1 tbsp olive oil
What you do:
Heat oven to 200°C/fan 180°C/gas 6.
Tear the slices of bread into 2cm pieces. Spread over a large baking sheet or tray and drizzle with the olive oil.
Bake for 8-10 minutes, turning the croutons a few times during cooking so they brown evenly.
Cut the unpeeled potatoes into thin chips, measuring about 5mm wide.
Place the potatoes and oil in a plastic bag and shake gently to coat. Spread the chips on a large non-stick baking tray.
Cook the chips for 25-30 minutes or until golden and fluffy.
Meanwhile, cut the bacon into small pieces. Tear lettuce into large pieces and put in a large bowl. Top with the bacon and croutons and add the dressing.
This page can be found at: http://secretsauce.co.uk/meat-poultry/salad-recipes/eighties-homemade-thin-chips-with-caesar-salad/
A short link can also be used: http://bit.ly/xLBadh
Potato Council
British potatoes
are the ultimate taste sensation that have stood the test of time. They're great value for money, quick and easy to cook and provide a wealth of essential nutrients.
More from Potato Council

Alex says: 'This is simply yummy, as spicy as you fancy with the King Edwards catching a lovely lick of the chicken's roasting juices.'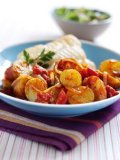 A delicious side dish to serve with any curry or Indian meal

Alex says: 'This is the good King Edward's twist on the Greek filo pastry pie, Spanakopita.'
Popular in salad recipes

No cheese is tastier chargrilled than Halloumi and the sweet nectarine goes perfectly with the salty prosciutto

A satisfying warm salad of goat's cheese, roast sweet potato and prosciutto

This is a lovely quick and easy salad, lovely with fresh crusty bread, or if you're feeling naughty, a big bowl of chips!