Mini meaty pizzas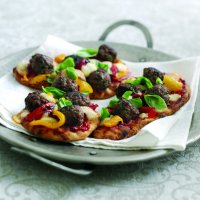 Easy to make, these mini pizzas are perfect for kids' parties or for starters when you're having friends over for dinner
Serves: 4
Preparation time: 15 minutes
Cooking time: 10-15 minutes
What you need:
225g/8oz lean lamb mince
Salt and freshly milled black pepper
5-10ml/1-2tsp garlic salt or granules (available at most supermarkets)
30ml/2tbsp freshly chopped flat-leaf parsley
15-30ml/1-2tbsp Worcestershire sauce
4 plain mini naan breads
60ml/4tbsp tomato purée or passata
½ x 280g jar prepared roasted peppers, drained and sliced or roughly chopped
1 x 125g tub mini mozzarella cheese balls, or any stringy cheese of your choice, torn
20ml/4tsp olive oil
Small basil leaves, to garnish
What you do:
In a large bowl mix together the mince, seasoning, herbs and Worcestershire sauce. Shape into 16 small meatballs, roughly the size of a walnut.
Heat a large non-stick frying pan and dry fry the meatballs for 3-4 minutes on both sides until brown. Remove from the pan with a slotted spoon
and set aside.
Preheat the oven to Gas mark 6, 200°C/400°F.
Place the naan breads on a baking sheet and spread each one with 15ml/1tbsp tomato purée. Top with the roasted peppers, meatballs and cheese. Drizzle over the olive oil.
Bake in the oven for 10-15 minutes until the base is crispy and the cheese has melted.
Garnish with the basil leaves and serve immediately with a crisp salad.
This page can be found at: http://secretsauce.co.uk/meat-poultry/pizza-recipes/mini-meaty-pizzas/
A short link can also be used: http://bit.ly/gTZFlX
Quality Standard lamb

Quality Standard lamb is produced to higher standards than required by law with a supply chain which is fully assured and independently inspected at every stage from farm to meat counter. For more recipes visit the recipe club.
More from Quality Standard lamb

This Valentines Day, give offal a go and try something different by treating the one you love to a tasty dinner of Stuffed braised lamb's heart

A taste of the middle east, perfect for a mid-week supper

These burgers will keep your family coming back for more - they're easy to make and delicious!
Popular in pizza recipes

This 10-minute recipe grills pittas topped with My DOLMIO Pizza Flavour Sauce, pepperoni and Mozzarella. It's perfect as a home-from-school easy meal

An impressive, yet simple, addition to any pizza that will make you want to eat the whole thing yourself!

An Italian pizza which uses delicious ingredients from all over the country