Stuffed braised lamb's heart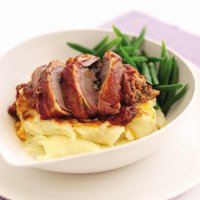 This Valentines Day, give offal a go and try something different by treating the one you love to a tasty dinner of stuffed braised lamb's heart
Serves: 4-6
Preparation time: 35 minutes
Cooking time: Under 2 hours
What you need:
4 prepared lamb's hearts
8 streaky bacon rashers
For the onion and mushroom stuffing:
40g/1½oz butter
1 small onion, peeled and chopped
50g/2oz mushrooms, chopped
75g/3oz sausagemeat
15ml/1tbsp freshly chopped flat-leaf parsley
15ml/1tbsp freshly chopped tarragon
Salt and freshly milled black pepper
2.5ml/½tsp ground mace
1 small egg, beaten
For the braising sauce:
15ml/1tbsp olive oil
15ml/1tbsp plain flour
200ml/7fl.oz good, hot beef stock
1 x 200g can chopped tomatoes with garlic
Dash Tabasco sauce, optional
100ml/3½fl.oz red wine
30ml/2tbsp freshly chopped flat-leaf parsley
What you do:
Preheat the oven to gas mark 4, 180°C, 350°F.
Prepare the stuffing, heat half the butter in a large non-stick pan and cook the onion and mushrooms. Transfer to a large bowl and stir in the remaining ingredients.
To make the braising sauce, heat the oil in the same frying pan, add the flour and cook for 1-2 minutes. Gradually add the stock, tomatoes Tabasco (if used) and wine. Bring to the boil, reduce the heat, season and simmer for 5 minutes. Add the parsley, cover and set aside.
Season the hearts and spoon the stuffing mixture into the cavity of each. Wrap with the bacon and secure with butcher's string. Heat the remaining butter in the same frying pan and brown the hearts on both sides. Transfer to a roasting dish.
Pour over the sauce, cover and cook for 2 hours, or until the hearts are tender.
Remove the butcher's string, slice and serve with creamy mash and seasonal vegetables.
This page can be found at: http://secretsauce.co.uk/meat-poultry/offal-recipes/stuffed-braised-lambs-heart/
A short link can also be used: http://bit.ly/gwQUne
Quality Standard lamb

Quality Standard lamb is produced to higher standards than required by law with a supply chain which is fully assured and independently inspected at every stage from farm to meat counter. For more recipes visit the recipe club.
More from Quality Standard lamb

A taste of the middle east, perfect for a mid-week supper

These burgers will keep your family coming back for more - they're easy to make and delicious!

Spice up your roast with this tasty take on a classic