Devonshire squab pie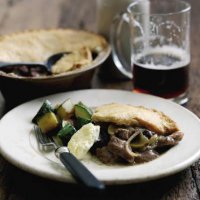 It's the traditional recipes that pack a real flavour punch and this Devonshire squab pie is no exception
Preparation: 15 mins
Cooking: 60 mins
Serves: 4
What you need:
450g/1lb lean lamb neck fillet, sliced
Salt and freshly milled black pepper
Pinch ground nutmeg
2.5ml/½tsp ground mace
2.5ml/½tsp ground cinnamon
10ml/2tsp cornflour
1 red apple, cored and sliced into thin wedges
1 medium onion, peeled and sliced
8 dried ready-to-eat prunes, chopped
10ml/2tsp light brown sugar
150ml/¼pint good, hot lamb stock
350g prepared shortcrust pastry
1 egg, beaten
What you do:
In a large bowl mix the lamb, seasoning, spices and cornflour together.
Arrange the lamb, apple and onion in layers, Add the prunes, sugar and stock.
Preheat the oven to Gas mark 3, 170°C, 325°F.
On a floured surface roll out the pastry large enough to fit over a 1.2L/2pint ovenproof pie dish. Dampen the edge of the dish with a little water and place the pastry on top of the dish. Trim off any excess pastry and press and crimp the edges to seal. Brush with the beaten egg and cook in the oven for 1 hour until golden brown.
Serve the pie the traditional way with clotted cream, seasonal vegetables and potatoes.
This page can be found at: http://secretsauce.co.uk/meat-poultry/pie-recipes/devonshire-squab-pie/
A short link can also be used: http://bit.ly/dRVCVO
Quality Standard lamb

Quality Standard lamb is produced to higher standards than required by law with a supply chain which is fully assured and independently inspected at every stage from farm to meat counter. For more recipes visit the recipe club.
More from Quality Standard lamb

This Valentines Day, give offal a go and try something different by treating the one you love to a tasty dinner of Stuffed braised lamb's heart

A taste of the middle east, perfect for a mid-week supper

These burgers will keep your family coming back for more - they're easy to make and delicious!
Popular in pie recipes

This recipe takes a little bit of time, but it's worth it for the deliciously tender meat, kidney and flaky pastry

A traditional dish with a British twist. These Ploughman's pies are sure to go down a treat at any party this year!

A delicious chicken pie with a light, crisp pastry topping